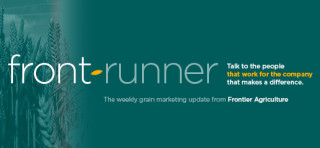 Problems accessing this blog? Click here to go to our main blog feed where you'll be able to see our latest post at the top.

The world's wheat futures markets opened the week with another notable rise in prices, setting new record highs following the news that India would ban wheat exports with immediate effect. The Indian government reacted to fears of an intense heatwave during March which cut yields, sending the country's domestic prices to record highs.

You can also listen to the Frontrunner podcast - press play to hear the latest report. The report this week is read by farm trader, Sophie Powell.