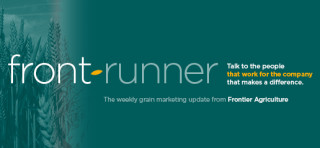 Problems accessing this blog? Click here to go to our main blog feed where you'll be able to see our latest post at the top.

Wheat futures markets have again been volatile this week and have fallen sharply with losses extending by over 10% from the record highs reached earlier this month. Long liquidation and speculative selling gathered pace in response to newswire reports that Russia would provide a humanitarian corridor for vessels carrying food to leave Ukraine. Analysts estimate that over 21 million tonnes of grain will be trapped in Ukraine by the end of this season due to the Russian navy blockade of the country's Black Sea ports. The loss of Ukrainian grain supplies to the world's major importers has been the primary wheat price driver since the Russian invasion in February and has been the main element contributing to the prevailing global food crisis.

You can also listen to the Frontrunner podcast - press play to hear the latest report. The report this week is read by marketing assistant, Faye Lee.