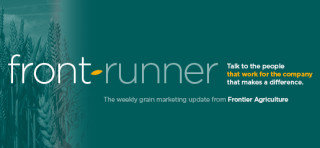 Problems accessing this blog? Click here to go to our main blog feed where you'll be able to see our latest post at the top.
There are new contract highs for 2022 European new crop wheat futures this week, as markets continue to react to the longer-term threats to Black Sea wheat supplies - particularly those from Ukraine. The London November 2022 contract passed £300/t for the first time and the old crop May 2022 contract set a new record with a high of £332.20/t.

You can also listen to the Frontrunner podcast - press play to hear the latest report. The report this week is read by farm trader, Lucinda Redgate.