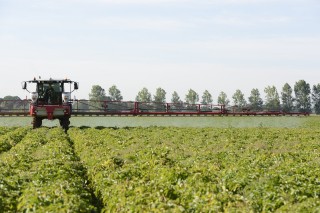 2018 has thrown a range of challenges at potato growers and agronomists, such that blight control has increasingly taken a back seat as the season has progressed.
It will be no surprise to anyone that data now shows that soil moisture has been widely yield-limiting due to the unusually high rates of evapotranspiration, even where irrigation was closely monitored. Despite everyone's best efforts, impacts of the season are becoming increasingly apparent from the yields of early lifted crops and lower yield predictions for crops due to be harvested this month.
These crops often only responded to N applied at tuber initiation after it was washed into soil by rain towards the end of July. They now have green canopies that are allowing continued bulking but also canopy re-growth during desiccation.
As a result of the prolonged dry soil conditions, on 26th July diquat manufacturers withdrew their backing for commonly used tank-mixes stating these are only to be applied if soil has passed a SMART test. The manufacturers highlighted their concerns around wetters and that some fungicide formulations could increase uptake of diquat, potentially leading to vascular staining in tubers.
Despite all this, we must not forget that the use of fluazinam may no longer be effective in crops for storage due to the reduced sensitivity of new blight strain, Dark Green EU-37.
Thankfully, Percos from BASF is an alternative to fluazinam that has proven tuber blight activity. With blight control a continuing challenge, sustainable resistance management advises a sequential use of at least four different effective modes of action and Percos now provides an additional one.
In fact, it is one of the few products to include tuber blight on its approved label, stating that it will "reduce the incidence of tuber blight at harvest when used at recommended doses and spray intervals from tuber initiation to complete haulm desiccation."
The below results from BASF trials show its effectiveness:
Another important benefit of Percos – and particularly so for the conditions of 2018 - is that its formulation doesn't impact on desiccation with diquat. See variety Nectar desiccation demo pictures below:
If you'd like more information or have questions on any of the above, you can get in touch here.