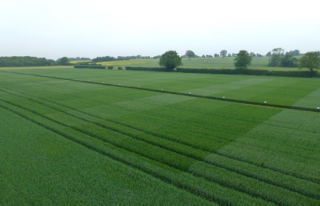 At SOYL, we have been running an extensive precision farming research and development programme for nearly 30 years. The work is central to the value of our technology and services, and today we now possess one of the largest trial databases in the world.
A significant part of this work involves trials to compare our variable rate application approach against flat rate applications. For those less familiar with precision farming technology, variable rate application is the practice of applying different rates or amounts of crop nutrition to different parts of the field, depending on the crop's requirement. Application rates can be determined using satellite imagery which helps to identify variations in crop biomass and therefore where targeted applications are needed.
Our variable rate trials explained
The variable rate trials we conduct help us to provide empirical evidence of the agronomic and economic benefits of the technology, and serve as an important way for us to continue developing our own expertise and services.
As we approach the spring, I thought it would be a good time to share the results of our 2020 variable rate nitrogen (VRN) trials.
Much of the trial work undertaken in agriculture is done through plot trials, such as our 3D Thinking trials network. However, at SOYL we tend to take a whole-field trial approach to better understand the full effects of variable rate practices and the variation which exists on a commercial farm scale. We also ensure that all our trials are conducted across a wide geographic area so they encompass a range of soil types and regional conditions for the most accurate results.
How the trials were conducted
Despite the challenging conditions in spring 2020, we conducted four VRN fieldscale trials on customer farms across the UK. All four of the fields were in winter wheat.
For the trials, each field was split into variable rate (VR) and flat rate (FR) treatment strips, as shown in the images below.
The VR and FR strips within each field received the same base rate of nitrogen; the only difference in treatment was that within the VR strip, the applications were varied according to the results of our biomass imagery.
In the images above, the average yield for all of the different treatment zones has been listed on the yield maps to help you see the different outcomes for VR and FR applications.
What was the outcome of the trials?
How do these maps translate in terms of tonnes and returns? At the end of the day, the main objective here is sustainable, cost-effective, efficient crop production.
Yield
We saw yield benefits at all our trial sites on plots where we applied VRN based on satellite imagery, in spite of the challenging conditions of 2020.
The trials showed a yield increase of between 2-2.9% by applying nitrogen variably in comparison to flat rate applications, as shown in the table below. While this increase is slightly below the 10-year average of between 3-8% for our nitrogen trials, the results are still very promising considering the turbulent weather conditions crops were exposed to in 2020.
​Field​​

​




​VR N yield (t/ha)
​FR N yield (t/ha)
​VRN benefit (t/ha)
​% yield increase
​A
​7.01
​6.85
​0.16
​2.3
​B
​8.64
​8.45
​0.20
​2.6
​C
​7.37
​7.16
​0.21
​2.9
​D
​8.12
​7.96
​0.16
​2
Financial return
It's clear that VRN applications result in increased yield but how does this translate to economic return?
The table below shows the £/ha benefit on a range of wheat prices based on yield increases seen in each trial field. The figures show that growers can expect substantial financial returns based on their £8/ha investment in the VRN service. Even at the lowest wheat price, a £16/ha return is achievable for growers even after subtracting the service cost. This represents significant cost benefits.
| | | | | |
| --- | --- | --- | --- | --- |
| ​Field | ​Margin over VRN cost @ £200/t | ​Margin over VRN cost @ £175/t | ​Margin over VRN cost @ £150/t | ​Margin over VRN cost on 200ha wheat @ £175 |
| ​A | ​£32/ha | ​£28/ha | ​£24/ha | ​£5,600 |
| ​B | ​£40/ha | ​£35/ha | ​£30/ha | ​£7,000 |
| ​C | ​£42/ha | ​£36.75/ha | ​£31.50/ha | ​£7,350 |
| ​D | ​£32/ha | ​£28/ha | ​£24/ha | ​£5,600 |
Additional benefits of variable rate nitrogen application
In addition to yield and cost benefits, there are other advantages to VRN applications. Growers can expect to enjoy improved combine efficiency, greater crop quality, improved grain proteins and higher nitrogen use efficiency. We will discuss these additional benefits in future blogs, so please ensure you subscribe if you'd like to learn more.
Find out more about SOYL's variable rate nitrogen (VRN) service
If you want to find out more about our variable rate nitrogen service, please visit our website or get in touch with your local SOYL contact.