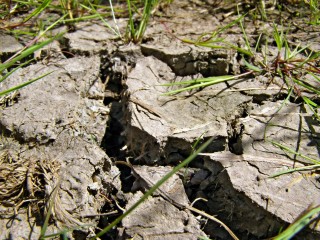 With the hot and dry weather set to continue, Kings sales manager, Richard Barnes, discusses the impact for game cover and wild bird seed crops across the UK and how to manage them for best results.
Having been an advisor with Kings for 15 years, how does this year's weather compare to that of previous years?
Every year has its own challenges but this one is a stand out. Following quite an extraordinary spring, we seem to have had an equally extraordinary summer within the space of two weeks! The prolonged lack of rainfall to date has been unusual. With a few minor exceptions, this is being seen across the entire UK and much of northern Europe as well. We see 2018 being just as challenging to growers as was 2012 (image below) but for the completely opposite reasons!
On a very positive note, those with wild bird interests are generally sitting pretty. Currently, they are enjoying an abundance of varied habitats including autumn sown brood rearing mixtures which look very well just now. Added to that the settled weather and with plenty of brood potential, they will be reasonably comfortable with things as they stand.
What impact is this weather having on game cover and wild bird seed mixtures?
It is very much a mixed bag to be honest. Those who drilled crops into damp soils and managed to retain that moisture are seeing good results, especially with maize, millet and sorghum as they love the heat. Kale based mixtures, which had probably had their best year in 2017, are struggling especially where soils have dried out. Clearly there is pressure building where released game is a key element of sporting interests and of equal importance will be how growers are going to produce wild bird seed mixtures that will have enough seed to support farmland birds through the winter.
How are you and your network of technical advisors supporting grower enquiries and what is the general advice?
Our technical helpline is open to all our customers and has understandably been busy with questions on what to do in the current circumstances. We have been very active with site visits to help re-assure growers where they have concerns. In terms of general advice, the basic elements of good crop husbandry come to the fore in terms of protecting crops from pigeons, hares, flea beetle and rabbits. Your crops are under enough stress without being eaten as well!
We are advising great caution when it comes to spraying for weeds – you must take advice on any plant protection product application and this includes foliar feeds. Hot, dry conditions put plants under tremendous strain – a herbicide and foliar feed combination in the middle of the day, even meant with the best of intentions, can be devastating to the crop.
The good news is that, with the dry weather, weed growth is also being reduced so that challenge isn't as great as it may have been. If you find that you do have a weed problem, please take advice as action for each crop and plot will need to be taken based on its own merit.
Where you have patchy crops, what do you suggest to do and what should you plant?
Basically, wait for rain! There is no point applying more seed to dry seedbeds as you will be wasting good seed and spending money unnecessarily.
Our advice currently is to keep an eye on the weather and when things change (which they will), be ready to overseed with quicker growing brassica crops such as Utopia, Kale Rape, Brown Mustard, White Mustard and Fodder Radish. Coleor kale is a good choice for summer sowing and if you are keen to see some feed introduced then Buckwheat is a great choice through July.
If you need a simple, ready to go, off-the-shelf fix then our Summer Blend, Universal Mix or (as time moves on) Winter Cover Mix will all be good options.
Some plots may need re-drilling but, in general, we anticipate a gentle overseeding with a grass harrow such as that shown below will help boost existing plan populations.
With the weather bringing an early harvest this summer, you may be able to utilise some extra stubble areas which are ideal for drilling into with catch crops.
What about bringing water to the plots?

Some fortunate individuals may have the benefit of irrigation drift from adjacent high value crops or even be able to have rain guns placed over their crops – but these will be the exception!
We have one or two growers who are currently using slurry tankers to water key drives at night to aid growth. This is a laborious job and needs to be done with care, as the added traffic and excessive water volumes can do more harm than good. That said, where release programmes need crops to get away or where wild bird seed mixtures need a helping hand, this can be a valuable lifeline to maintain crop growth. As ever, talk to us for guidance on your own situation.
From the sublime to the ridiculous - two plots from the same farm showing how soil type has influenced crop success in the current conditions
How do growers reduce the risk of these increasingly variable weather patterns going forward?
As in 2012, those who have a third perennial, a third biennial and a third annual crop in the system will likely come out on top. Fewer eggs in one basket help from a crop establishment, workload and habitat perspective. Consider where you can introduce perennial crops such as chicory, reed canary grass and artichokes. Think about what kale crops can be taken to a second year and help to reduce your reliance on annual crops.
Anything else growers should consider?
Sadly we cannot supply rain (we have been working on it but it has proved to be a struggle!) In essence, the same old adage comes to the fore – good game and habitat crops are no accident.
Careful planning, a strategic view to crop selection and management supported with good advice tends to stand people in good stead. We can't know much about the weather but we can influence the other variables.
If you wish to learn more please give us a call on 0800 587 9797 or drop us an email – we'll be pleased to help.