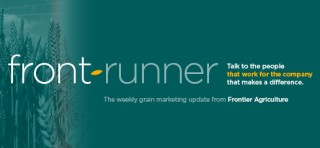 WHEAT
Wheat report from the USDA
Yesterday, the USDA published their July World Supply and Demand Estimates. They highlighted the tightening global balance sheet making further cuts in output to many of the world's major wheat producers. From their June report, they see Australia down two million tonnes, the EU down 4.4 million tonnes, Russia down 1.5 million tonnes and China down one million tonnes. Overall, they see world production falling 21.7 million tonnes on last year's record. Small cuts in consumption offset some of this, leaving year end stocks at 260.88 million tonnes – 12.6 million tonnes down on the year.
Optimism remains in the French wheat output
This week the French Farm Ministry signalled a more optimistic view seeing their wheat crop at 36.1 million tonnes. This matches trade expectations however, a notable exception to this being Strategie Grain who estimated a 33.2 million tonne crop. Meanwhile, French wheat crop ratings slipped one point on the week to 72% good to excellent condition, as their crop progressed to 20% harvested.

---
BARLEY
Feed barley makes gains on back of higher wheat futures
Harvest pace picks up this week with the dry weather. Yields tend to be 5 - 10% below last year's average with bushel weights around 66 – 68kg/hL which is pleasing. Prices have risen in line with LIFFE futures prices. Farmers are relatively happy with feed barley's performance, considering the dry conditions. Barley is being sold back by Spanish merchants, due to the re-bound in their crop compared with last year, and re-sold to the Irish trade.
Malting barley prices accelerate
Due to the dry conditions in the UK and Scandinavia, prices for malting barley have increased by around £5/t, now nearing £40/t for brewing varieties over feed barley. France has started to harvest their crop, however, the late May/early June high rainfall which reduced the flowering cycle has lowered yields by 5% which is more than originally thought. Nitrogen levels are an enviable average of £1.60 – 1.65N and with current premiums over feed historically high, pass rates are set to increase markedly.Harvest is expected to start at the end of July in East Anglia for spring barley and there is a possibility that maltsters may have to consider easing their specifications if they are to get the supplies required. The result of this would be a loosening of the malting premiums.
---
​OILSEED RAPE
Expected yields from the UK's 2018 OSR crop still remains a debatable subject, with the general consensus pointing towards some sort of a reduction against last year's levels. However, in the past week we have got more clarity on what is in the ground for the forthcoming harvest. AHDB's Early Bird plantings survey back in November predicted a 9% increase in England and Scotland and their updated report, released earlier this month, now confirms a slightly higher figure at +10% (608,000 ha) for OSR.
Plantings remain well below the peak
The projected area ends a run of lower plantings each year since 2012 and is the result of the favourable planting conditions in autumn 2017, compared to autumn 2016 when the UK was suffering from overly dry soils. However, the area is still 19% lower than the record plantings for harvest 2012 when 143,000 ha of OSR were in the ground. Final confirmation of the plantings will come from the results of the June census which will be published in the autumn.
Elsewhere, the Australian crop continues to suffer from a lack of moisture but the Canadian canola crop is benefiting from near ideal weather. The US soybean crop is thriving, with crop conditions now rated as 71% Good to Excellent. This coupled with higher year end stocks in the last USDA report has triggered sharp falls in US futures markets. EU rapeseed now looks distinctly expensive against North American canola and US soybeans and on the current price structure we should expect a significant influx of seed from the Black Sea countries.
Thursday saw the release of the USDA's domestic supply and demand projections with the key feature being a more-than-expected cut in US exports for 2018/19, with year-end stocks soaring to new record levels of 580 million bushels. The previous record was 574 million bushels, left over after the 2006/7 season. The tariff war with China is cited as the key reason but the report also highlighted the prospect of a bumper crop, with production up 30 million bushels since the last report. Markets have reacted negatively.

---
PULSES
Impact of dry weather continues
The growing pulse crop is still under pressure from the ongoing dry weather and, for some crops, the rain forecasted in certain areas next week may be too little, too late. That said, the winter crops are generally holding on with all but the top pods filling well. Winter beans are now over 40% of the area grown. It's important that we check their suitability for human consumption, as crop conditions in Australia and the Baltic states are also dry and hot. Therefore, we expect human consumption premiums to be much stronger this year.
---
FERTILISER
A relatively quiet week for the fertiliser markets compared to the previous few. Much of the week was about concluding the final few liquid orders with autumn tank fill and spring supply, before the liquid suppliers pull terms and move the prices upwards to reflect the rising replacement costs.
Last week CF Fertilisers moved the Nitram price to circa £250 for November delivery and that has certainly slowed sales. With both UK nitrogen plants having planned shutdowns during the autumn, product availability will remain tight for this season. On the urea front, prices have stopped rising and we now look to currency for signs of where pricing for UK imports will move to next.
All UK suppliers are now seeing a steady flow of orders, as farmers realise that the MOP/TSP/DAP markets may well follow nitrogen and firm during the summer/autumn. For those of you with a bit of storage space, it's well worth talking to us about current offers. Speak to your local farm trader for more info.
We all hope the weather holds for those who are combining or thinking about getting the combine out. While sat on the combine, it is a good time to think about OSR establishments and the benefits of applying DAP to OSR seedbeds to improve establishment and yield. Applied at 167kgs/ha of product, this supplies 30kg of nitrogen plus 76kg phosphate. Again, talk to us early to ensure prompt delivery.