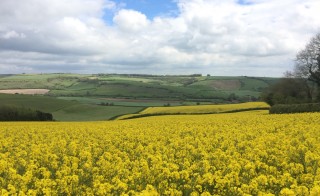 Although the recent hot weather has allowed harvest to recommence, the initial 'stop-start' affair may have given some growers a bit more time to consider establishment strategies for crop 2021.
As is the case with any crop when it comes to successful establishment, consideration must always be given to a wide range of variables and how much influence we have over them. Healthy, well structured soils are always a prerequisite, as is a sound nutrition and crop protection strategy.
Of course, some crops can require slightly different approaches on top of the norm and there is one that is fuelling a little bit more discussion at the moment: oilseed rape.
Today, the crop is often the centre of debate. While its place as a commercial break crop has been unchallenged for many years, increased pressure from cabbage stem flea beetle (CSFB) in many regions – coupled with other variables such as soil type, previous cropping considerations, moisture availability and variety choice – has meant that the successful establishment of the crop requires some important planning.
Fortunately though, for those considering oilseed rape in next year's rotation, there could be quite an innovative 'tool' available within the establishment 'workshop'.

Exploring companion crops as an aid to OSR establishment
While it's been around for some time now, some may think that 'companion cropping' is still quite a novel technique when it comes to supporting crop establishment. If we look back to a time when oilseed rape was more easily established (and the biggest concern was keeping pigeons away in winter), a 'leftfield' option like companion crops would have likely been scoffed at by all but the progressive few.
Today, however, companion crops present a viable and sensible risk management option for oilseed rape growers and, while they are by no means a silver bullet, if we are to look at incremental gains they definitely have a place at the table.
What do companion crops do?
This is an important question and one with many answers – companion crops can do a lot!
First of all, if we look at circumstances involving oilseed rape specifically, the addition of a companion crop can aid establishment through complimentary rooting (berseem clover), by providing a distractive canopy (buckwheat), or even by masking the scent of rape (fenugreek). While the last two characteristics can contribute to pest management, it is important to stress that companion crops are not just designed to act as 'trap crops', i.e. diverting CSFB away from rape through diversionary feeding.
Companion crops actually have some wider ranging benefits and can be incorporated into your rotation as part of a Countryside Stewardship scheme, providing an additional income for your business.
There are many growers today who are adopting this approach as part of their Integrated Pest Management (IPM) strategy – for now and in the future. For example, a strong, diverse species of companion crops used as a network of flower-rich margins, headlands and strips across fields at sensible working widths, can provide a valuable habitat for predatory insects such as hover flies, ladybirds and parasitic wasps.
The benefits to soil health should not be overlooked either. Deep root growth from the likes of berseem clover can improve soil structure and help crops such as oilseed rape get off to a stronger start, while their ability to 'trap nutrients' can prove invaluable in the long-term. Let's not forget the competition they can give weeds too.
How do you plant companion crops alongside OSR?
Ideally we want to see a companion crop established ahead of the rape crop being planted but, equally, we recognise that this is far easier said than done when the pressure is on.
If a companion crop is to be fully successful, early establishment is key. Currently, we have a number of growers looking at establishing 'living mulches' – a mixture of growing white and subterranean clovers that are established in the preceding wheat crop.
If you are looking for a quick fix, however, you need to consider which crop can be drilled successfully using the kit you have available, and when you have time to do it. For many growers, the best method may be to broadcast the companion crop mixture into a standing crop ahead of harvest or spread it onto the stubble before drilling.
Alternatively, others may opt to drill it at the same time as drilling their oilseed rape. Importantly though, we do not advocate drilling your companion crop with your oilseed rape. The reason for this is that, without the necessary experience and care, sown mixture compositions can be very variable. Give that the rape is the primary 'cash crop', no one can afford to unintentionally end up with one end of the field in oilseed rape and the other as a companion crop. If you have a drill with additional seed hoppers, this option will allow you to look at sowing a range of seeds at different depths and rates.
How to know which species to choose

If you are considering dipping your toe into the companion crop pool, it could be worth trialling a couple of mixtures to begin with. Given that these will be relatively new crops for many growers, the opportunity to compare and contrast the performance and growth habits of different options will be valuable when it comes to decisions going forward.

At Kings, we're able to offer the following mixtures:
Companion Crop Mix 1 (product code: K12) – supplied in a 25kg bag/3ha pack
This three-way mixture provides some valuable and diverse species. While each provides their own wide ranging benefits, together they can attract an array of beneficial insects. The pack size is ideal for matching hybrid rape seed too.
Companion Crop Mix 2 (product code: K16) – supplied in a 15kg bag/3ha pack
This mix contains both fenugreek and berseem clover – two well-proven companion crop species. While the fenugreek seed number is high, the overall seed rate is low for ease of sowing.
Companion Crop Mix 3 (product code: K18) – supplied in a 24kg bag/3ha pack
Our third mix comprises a high percentage of buckwheat which is great for farm biodiversity, as well as improving phosphate mobilisation and availability. Its frost sensitivity also means buckwheat is quick to break down in the winter, lowering the risk of any unwanted competition to your OSR crop at this crucial stage.
Each of these mixtures are formulated to deliver a set number of seeds per square metre (a more technical approach than you may have first thought!). You can find the break down per species on our website.
Alternatively, if you are looking for straight crops, then berseem clover, fenugreek, standard buckwheat and tartary buckwheat (a smaller seed than the standard variety) are all available too.
What happens when a companion crop has 'done its job'?
Many of the plant species used within companion crop mixtures are frost sensitive so, if there's a decent ground frost, the likes of buckwheat will slowly deteriorate while releasing their stored nutrient back to the rape crop.
For species such as berseem clover and fenugreek, these can be set back by frost but the usual winter herbicide regime will see them cleaned up in good order.
A viable option for getting your OSR off to a good start
If you're looking to improve the early season success of your oilseed rape establishment, I'm sure you will already be thinking about these factors (and rightly so):
Early crop nutrition
Vigorous oilseed rape varieties
Sowing dates
Seed rates
Seed bed preparation
Soil conditions
Pest management
Seed treatments.
For many growers though, the addition of companion crops to this list could also be very important. While there may not be a specific 'blueprint' to follow just yet, companion crops can support various other aspects of your establishment strategy and potentially give your oilseed rape a fighting chance to continue its role as a valuable break crop.
For more information or advice about companion crops, including how we can support you with their integration on your farm, please visit our website or get in touch with your Kings or Frontier farm contact.​