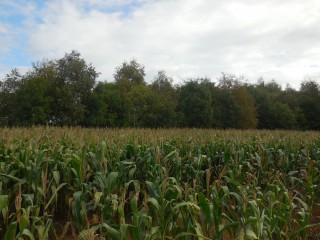 The relentless wet weather is likely to mean that more growers will be growing maize this season; either for the first time, or for the first time in a long time. Maize is a crop that needs careful management and seed treatments are an important part of that management that have seen some significant changes.
Most maize growers will be aware of the challenges we now face with the loss of the active ingredient methiocarb; best known as the seed treatment Mesurol. This seed treatment has for years provided class leading bird repellence, particularly against rook damage and other corvids, to the extent that some will have forgotten quite how damaging these pests can be. The loss of Mesurol will present a particular challenge to maize establishment and, with the final date for sales of Mesurol dressed seed having passed, alternative methods of control should be at the front of our minds.
The seed treatment Korit (Ziram) is the most obvious replacement. Some maize seed breeders have been using Korit as an alternative bird repellent treatment in recent years and experience of this product across over 10,000 hectares has shown it to be an effective deterrent to rooks. Korit will, for the short term at least, be the main treatment used to replace Mesurol for bird repellence.
In the absence of bird repellents, there have been discussions on what cultural actions we can take to reduce bird damage. One option is drilling deeper, to a minimum of 7cm. This is a good method but could lead to some other issues, especially on light soils which are prone to capping. When drilling deeper, be aware that soil temperatures are lower the deeper you go; drilling slightly later than normal should help with this. Drilling slightly later will also help with the speed of emergence and establishment which is key to reducing the amount of time in which the maize plant is vulnerable to bird damage.
This change around in maize seed treatments has been accompanied by the launch of several new products and packages from leading maize seed breeders. Redigo M will be used as the new fungicide treatment on most varieties. On KWS varieties this will be teamed with Korit and a biostimulant and nutrient mix, packaged as "Initio Bird Protect". Limagrain have also brought a new product to market: Starcover is a biostimulant aimed at launching the plant out of the ground and reducing the length of time the plant is vulnerable to bird attack.
Maize, like all crops, will need careful management, especially this spring. Despite the loss of Mesurol, these alternatives should still provide a valuable line of defence while crops are establishing themselves.