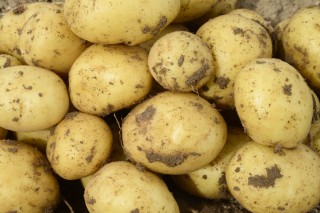 ​The Frontier Potato Seedcare team and I had a busy few days at Potato 2017 last month, meeting lots of growers and advisors. While we enjoyed a great range of interesting discussions with those who attended, there was one topic which proved particularly popular – the move to liquid seed treatment.
Attendees were keen to discuss the possibility of booking potato seed treatment with Maxim 100FS fludioxonil-based fungicide. The team which included agronomist, Paul Overton, Distribution Special Services, Darren Wonnacott and independent Potato Advisor for Turner Agriculture, David Turner received several enquiries about the contract hire of a Frontier mobile application machine.
Those interested each recalled how they had heard about the benefits of the liquid seed treatment from growers already using it. With the service drawing so much attention, many opted to hire a machine and give it a try for themselves.
The switch from powder to liquid
One of the main reasons given for moving from powder fungicides to liquids such as Maxim 100FS is the practical ease-of-use, especially through belt-type potato planters. Another frequently reported benefit (that won't be mentioned on a product label) is more even tuberisation, which in turn leads to tuber sizes that are more consistent.
In terms of disease reduction, fludioxonil is a broad spectrum fungicide. It has the capability to defend well against Black scurf (Rhizoctonia solani), while also reducing Silver scurf (Helminthosporium solani) and Black dot (Colletotrichum coccodes). When using it many growers find they don't need an in-furrow fungicide alongside it, although the label does advise that soils with a heavy inoculum can be resistant to the seed treatment. Because of that, it's always worth taking your individual circumstance into account.
Team Sprayer
At the event, many people visited the Frontier stand to discuss and purchase a Team Sprayer setup. Much of this interest originated from having seen the benefits of Maxim 100FS and the superior seed coverage that was achieved with the Team Air Treatment Canopy, powered roller table and Team Storemaster Potato. A Team sprayer setup, built to allow quick switching between applications of four different seed fungicides, is shown below.
If the availability of Maxim 100FS treated potato seed has been an issue in previous seasons (especially in the seed delivery period), please feel free to get in touch. Like with those who came to see us at Potato 2017, the Frontier Potato Seedcare team are more than happy to assist you with the hire of a seed treatment machine.
Alternatively, to prevent issues in future seasons you can speak to us to discuss the design and purchase of your own seed treatment setup too.
​



Reuben Morris​
Crop production specialist
For specific advice for your business related to this blog or any other aspect of crop production get in touch with Frontier.