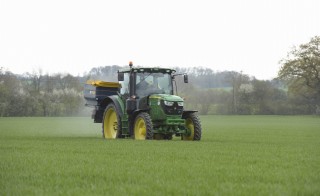 Since the rain has started to fall across the UK, I've had several people asking about the final nitrogen applications on a number of crops. Unsurprisingly, there's quite a lot to consider so we've put together a two-part blog series to help you address all of the key information.
In this first blog I've compiled some advice on final nitrogen decisions for the main arable crops, taking into account overall conditions we've seen this season and what they mean for final doses on oilseed rape, winter wheat and spring cereal crops. In the second blog my colleague, Charlotte Tomkins, will look at considerations around milling wheat specifically.
Taking the weather into account
Before I get into the detail of specific crops it is important to reflect on events so far this season – particularly the extremely wet autumn and winter we experienced. This impacted the levels of soil nitrogen meaning you likely started the season with a Soil Nitrogen Supply (SNS) one index lower than in a normal year (https://ahdb.org.uk/ewr). In real terms, this translates to an increase in nitrogen fertiliser requirements of around 30kg/ha. However, before you start adding this into your final dose calculations, there are two other fundamental factors that influence application rates.
1. Yield potential
Yield potential generally changes the amount of nitrogen required by a crop. Of course, I know it isn't easy to predict yield and especially at this stage. Even forward wheat crops are still to produce 60% of biomass and ultimate yield, and with the figure closer to 80-90% for most spring cereals.
While making a judgement can be hard it is still worth doing, especially when you're about to apply the final nitrogen dressing because projected yield will make a difference. Biomass imagery can be a useful tool for this, as there is a reasonable correlation between the biomass seen in May (for winter cereals) and final yield. The imagery can also be used to aid variable nitrogen applications so that the final dose is optimised to suit the yield potential within a field. Users of our MyFarm farm management platform can access biomass imagery for their farm via the MySOYL ​application, and you can learn more about its extensive uses​ in this blog.
2. The breakeven ratio (BER)
The second fundamental is the breakeven ratio (BER) or, put simply, the price ratio of grain to nitrogen.
The current high grain prices do need to be considered in relation to the cost of nitrogen, especially for OSR where the recommendations from the Agriculture and Horticulture Development Board (AHDB) in its Nutrient Management Guide (RB209) are based on a BER of 2.5 against 1.8 for the current nitrogen price, and less than 1.3 for where the price started at new season. For wheat the breakeven ratio is currently 4.6, but staggeringly down at nearly 3 for new season versus RB209 which works on 5.All this points to the economics being positive for an increased nitrogen rate.
Now we have considered the larger factors at play, I want to focus on specific arable crops and give some insight into final doses this season.
---
OSR – there is a significant variation in crop quality at the moment and it is now very difficult to predict yield given the effects of flea beetle larvae. However, the economics are incredibly positive for the decent crops. At this stage soil applied nitrogen isn't an option, so the only way to top up levels is with true foliar nitrogen products.
For this there are two product options: either Oilseed Extra if storage tanks are available on farm, or Nutrino Pro which is conveniently delivered in IBCs.
Both products need to be applied using conventional nozzles at the end of flowering to avoid any petals intercepting the spray. Trial results for both have averaged around 0.5t/ha which, at current prices, would produce a margin over input cost (MOIC) around £200/ha. For this reason, a foliar application at this time is definitely worth considering, but really only for crops that look to have good potential.
---
Winter wheat – Once again we're seeing some variations in crop condition but particularly in terms of growth stage. This means some crops have already received all their nitrogen, while others still have a final dose to apply. In all cases, the key here is to balance yield potential (nitrogen demand) against the generally lower soil nitrogen levels and the positive economics. I believe this mostly puts the total nitrogen dose for crops with good potential at the top end of your range and, at the very least, you should think about exploring higher rates on some fields to see how they perform.
This year, there is also some interest in foliar nitrogen products as an addition (or even an alternative) to soil applied nitrogen. We are continually reviewing this in trials and have seen positive results, but you do need to be using a safe product such as Nutrino Pro to avoid the risk of crop damage. At this stage of the season, I would encourage the trial use of these products to see how they perform against any existing programs.
If you are trialing or changing your nitrogen rates as mentioned before, it is vital to take grain samples from your fields or specific areas at harvest to see how they compare. Normal grain nitrogen/protein analysis is sufficient and this information along with yield can be used to look at the effect on that all-important factor: nitrogen use efficiency (NUE).
---
Spring cereals – these crops are no exception to the trend of crop variation this year, even within individual fields given the dry conditions. However, the recent rain has dramatically changed the potential of most crops. To a certain degree, your nitrogen rates on these crops tend to be dictated by the market you are aiming for. This is especially true for malting spring barley so now is the time to make that final decision. As with wheat, I believe this puts the total nitrogen rate at the top end of your potential range.
---
In summary, there are of course challenges to assessing the right nitrogen rate as the decisions often have to made well in advance of really being able to know the true potential of a crop. Even so, I would encourage you to take stock right now, evaluate the considerations outlined above and ask yourself: "Is my original nitrogen plan for this field still right?" It may well be the case that it is but it's always sensible to reconsider, particularly in years like this one where we're really seeing some extremes in weather conditions and changes to economics.
Ultimately, you're weighing up the risks of under-applying or over-applying. Applying too much nitrogen on crops with limited potential is clearly a wasted effort that could hit your margin, as could applying too little to those with more potential.
Whatever your decision, be sure to track any changes you make. Take the time to analyse the grain from individual fields and assess your NUE. Keeping track of this data will help in the decision-making process next year.
For advice on anything mentioned above or if you'd like more information, please speak to your local Frontier contact or get in touch.
---