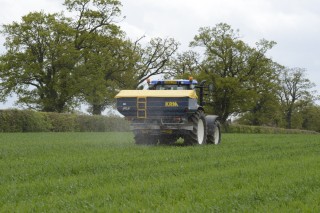 It's one of the first questions we face from growers when discussing variable rate nitrogen (VRN) and it's understandable given sulphur is one of the major nutrients required by plants. If optimum amounts aren't available, it will have a direct impact on end yield.
As it happens, in nearly all of these conversations our recommendation to growers is to apply sulphur variably alongside their nitrogen in order to achieve optimum yields and quality. Of course, as with all nutritional decisions, some forward planning is required.
With this in mind, we're going to address some common questions to help you plan for the spring and ensure you get the maximum benefits from variably applying sulphur.

How much sulphur (SO3) are you applying?
Historically, sulphur was supplied to crops in copious amounts via deposition from the atmosphere through rainfall. However, decades on from the Clean Air Act, most of the UK now receives less than 5kg/ha SO3 each year (as shown by the map). Put simply, this is not enough to cover crop requirements.
If we look at winter oilseed rape for example, the crop requires 150-200kg/ha SO3. With OSR it is also important to ensure you get the doses of sulphur right early in the growing period, as deficiency tends to show in the flowers. At this point, it is too late to rectify and regain the lost yield.
While it depends on the individual situation, your fertiliser sulphur applications should supply between 40-60% of a crop's requirement.
Sulphate is very mobile in the soil, so any levels present in the autumn after harvest or in applied manures can potentially be leached in the same way as nitrates over winter.As a result, the risk of sulphur deficiency and associated rates of application can be linked to soil type but, most importantly, the amount of overwintered rainfall.For example light soils are at higher risk, as highlighted in the table below:
How are you splitting your sulphur applications?
Every farmer has a slightly different way of splitting sulphur applications across their nitrogen programme. Some apply all of it in one dose in late February/early March, although taking more of a 'little and often' approach in balance with nitrogen is becoming slightly more common, especially with users of liquid fertiliser.
With this approach you are applying sulphur to the crop as it goes through key growing stages, in the same way you do with nitrogen. Unlike in the soil, sulphur isn't mobile in the plant and won't move from the older leaves to the growing point, so this seems to be a sensible approach. However, early single applications can still very much be used if they are appropriately timed to avoid leaching losses, although it may sometimes be sensible to apply a slightly more robust rate.
When applying the sulphur variably across multiple applications, SOYL trials found that there was very little difference in the tissue analysis between flat rate and variable rate. As nitrogen and sulphur are typically available in the same relative levels in the soil, where there is a lower requirement for nitrogen there will also be a lower requirement for sulphur. Deficiency will therefore not be a risk in the crop, as illustrated in the graph:
What product are you using?
If you are using ammonium sulphate (21N 60SO3), this should be treated as a specific sulphur application as any nitrogen applied consequently will be at very low levels. For this product we would recommend a flat rate application, with all subsequent nitrogen applications made variably based on biomass imagery.
However, for most other nitrogen-sulphur (NS) products where the nitrogen content is either higher or very similar to the sulphur content (such as Sulphur Gold 29N 20SO3 or DoubleTop, 27N 30SO3), these can be applied variably using biomass imagery.The variation in the sulphur applied will be the same or less than that of nitrogen, which makes sense because sulphur will generally follow the variation in soil nitrogen levels.Where NS products are used throughout the programme, as it's generally used with liquid fertiliser the variation in sulphur application compared to nitrogen will be even less. This is because these products usually contain a lot more nitrogen than sulphur.
Addressing any early season variation in crop biomass with a variable rate application of nitrogen is invaluable in setting up the crop for the rest of the spring but, as we've mentioned, choosing the right product to achieve this is crucial. The decision about product choice for this application can be relatively straight-forward as most products, with the exception of ammonium sulphate and possibly ASN (26N 35SO3), can be safely and successfully used for the application.
The importance of planning – get in touch
If we circle back around to the initial question about the safety of applying sulphur variably, you can see that by planning out your applications there are really very few barriers to consider. In fact, unless you are using specific sulphur products, not only is it safe to make variable applications but it is advantageous for ensuring you produce a higher yielding and higher quality crop too.
If you have questions or would like further advice on sulphur applications, please contact your local SOYL or Frontier contact.