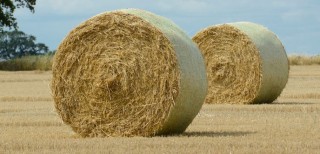 While rain has now fallen in most regions, the recent hot weather has significantly impacted grass growth meaning, unfortunately, many dairy farmers will be heading into the winter with a shortage of silage.
As has been well publicised over recent weeks, many farmers are baling their straw to help their colleagues with cattle. But what impact does removing straw have on nutrient off take?
During the growing season crops uptake huge amounts of nutrient, with wheat crops taking up over 300kg/ha K2O - as shown in the graph. However, some very high yielding crops can take up even more; approaching 400kgs/ha – similar to high yielding maize crops.
In a 'normal' season, large amounts of this potash are returned to the soil during senescence. However, this year there have been many discussions focused on K removal in straw being higher than normal, due to the early crop senescence and lack of rainfall during this period.
Many have questioned if this increased potassium level in the straw is associated with the recent pink appearance that some have experienced. However, some laboratory tests at Frontier have suggested other factors could be the cause of this such as heat stress and rapid desiccation, as K levels were similar in both pink and 'normal' coloured straw.
Standard figures in RB209 show clearly the increased level of nutrient removed from straw, as shown in the below table:
These figures are based on the typical 50% ratio of straw to grain yield, which is used if the actual tonnage of straw removed is not known. For example, with a 10t/ha grain yield you would work on a 5t/ha straw yield . If bale tonnages per hectare are known, this figure can be multiplied by the P & K figures below to give a more accurate assessment of straw removal:
For a more precise measurement of nutrient off take in the straw (especially this year given the comments above about potentially higher potash removal), get a straw sample analysed by a laboratory to ensure the correct nutrient is accounted for in the following season's nutrient plan.
Here at Frontier, we have been doing some analysis this year.* Findings have shown that figures are much higher for both normal straw and 'pink' straw than the RB209 figures, as shown by the below calculations.
Winter Barley
Normal Straw - 1.43% K x 1.205 = 1.72% K2O times by 1000kgs = 17.2kg/t K2O
Pink Straw - 1.60% K x 1.205 = 1.93% K2O times by 1000kgs = 19.3kg/t K2O
Book figures as above - 9.5kg/t K2O
Spring Barley
Normal Straw - 1.76% K x 1.205 = 2.12% K2O times by 1000kgs = 21.2kg/t K2O
Pink Straw - 2.45% K x 1.205 = 2.95% K2O times by 1000kgs = 29.5kg/t K2O
Book figures as above - 12.5kg/t K2O
It is important that these increased off takes are replaced during the following season to ensure that indices are being managed correctly – either maintained or built in as required. It will potentially result in an increased fertiliser requirement, however, with the grain and straw price at their current levels this increased cost will be well covered in most cases.
*Frontier are offering a limited amount of free straw analysis for this year – please speak to your local SOYL or Frontier contact for further details on how to take advantage of this.
What do I need to do to ensure I mitigate any off take?
Not replacing the nutrients removed could impact on the following crop. Phosphate is important for root growth and energy movement within the plant. If indices are low and soil supplies are insufficient, this could have an impact on early establishment. Similarly, if potash levels are low this will have an impact on the following crop's ability to control water content within the cells.
SOYL can support you to manage your nutrient availability to give your following crop the best possible chance. Simply follow the below steps:
1.Check the nutrient plan for 17/18 to determine whether this was based on removing or incorporating the straw
2.If your plan was based on incorporating, flag the fields in which this changed
3.Provide SOYL with the 2019 cropping plan and areas where straw was removed this harvest
4.The team at SOYL will calculate tonnages to include straw policy changes to ensure sufficient nutrient is replaced
5.If straw yield is known and laboratory analysis has been taken, please also pass this onto SOYL to improve the accuracy of the calculation.

If you'd like more information and support on managing your soil nutrients following the removal of straw, speak to a member of the SOYL team today.

​

Gavin Campbell, ​ Applications Team Leader
​Edward Downing, ​National Crop Nutrition Technical Manager