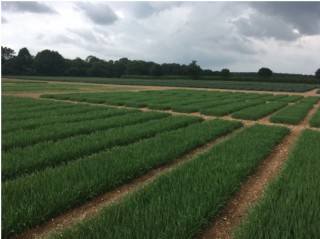 As part of my role as a farm trader, I take a proactive interest in crop development throughout the season to make sure I am providing the best possible advice to my growers. This can vary from anything to do with varietal choice right through to suitable marketing strategies based on what I am seeing in the field.
3DThinking
This week, I visited the Frontier Malshanger Development site near Basingstoke ahead of our open days. The site is part of our 3DThinking initiative which brings solutions to growers nationally and regionally through our Discovery, Development and Demonstration programme. Our Discovery sites give growers the opportunity to look at emerging technologies, while Demonstration sites showcase key varieties in conditions representative of local farms. Development sites, like Malshanger, focus on varieties, crop protection, nutrition, cover crops and precision agronomy across a total network of 12,000 replicated plots.
Spring barley progress
During my visit, I took a look at our spring barley trials after what has been another difficult planting season. Planting, as with most on-farm activities this spring, was delayed to mid-April and even then it wasn't undertaken in the best of seedbed conditions.
Over the past week, the Hampshire region has seen soil temperatures hover around 16 degrees celcius, with a mean air temperature of 17 degrees celcius and approximately 30mm of rain. This, coupled with the recent sunshine, has encouraged varieties to press onto growth stage 31, presenting some strong tillers and relatively little stress and disease breaking out on the lower leaves.
While crops are certainly looking well, they are still a couple of weeks behind where they would usually be on the calendar. The next four weeks will prove very important, with spring barley requiring some careful management due to underlying concerns that some may race through to ear emergence.
Orange wheat blossom midge
​Last week, orange wheat blossom midge (OWBM) numbers at Malshanger were recorded at 350, likely down to the humid conditions we've been experiencing over the past fortnight. Midge pupation is triggered when the soil is moist and at temperatures greater than 13 degrees celcius. This presents a threat to the crops in the surrounding area and serves as an important reminder to consider OWBM resistant varieties, particularly as there are no treatment options available.
We'll continue to monitor the crops closely through to harvest, capturing data on nitrogen response, seed rates and treatments and fungicide programme – details of which will be shared with our farmer customers, breeders and end users.
Malshanger 3D open days
While summer officially starts on the 21st June, as do our two open days at Malshanger. They are a great opportunity to hear about the latest solutions to the challenges faced by growers right across the country.
Starting at 2pm on the 21st and and 8am on the 22nd June, the days will focus on several key topics and our trials progress. In fact, you'll be able to see our aforementioned spring barley alongside other plots, as our experts take you on a guided tour to discuss the performance of new and existing varieties.
Similarly, advisors from Kings will head up cover crop demonstration plots and our SOYL colleagues will offer insight into the latest in precision farming techniques. There will also be the chance to speak to chemical manufacturers, machinery dealers and look at options for mobile seed cleaning.
For more information or to book your place, you can do so on our website by completing an online form for either Thursday 21st June or Friday 22nd June. Alternatively, you can also email This email address is being protected from spambots. You need JavaScript enabled to view it. or call 01264 388028.
Located elsewhere in the country? More of our #3DThinking events are taking place across the UK throughout June and July. Visit the Frontier website to find one local to you.
We hope to see you there!
Richard Clappison
Farm Trader