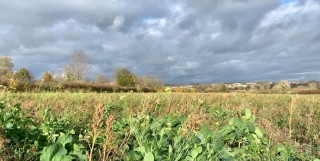 It's hard to believe we're this far into the year already. For those of you managing shoots or overseeing any sporting activity, I don't doubt that you will have had an array of challenges to contend with as a result of the restrictions and premature end to the season. With so much change it can be difficult to think about what's next, but there is still plenty to get off the ground as we look ahead to 2021/2022.
At this time of year there are now two key areas to focus on:

Making every effort to get your cover crop plots in good order
Embracing new opportunities born from the recent changes to land management policy and agri-environment subsidies.
So, what next in terms of cropping plans?
As a result of the restrictions last year, many shoots decided to limit or cancel release plans altogether. For some these decisions resulted in cover crop areas being reduced in size or altogether changed, while for others it presented an opportunity to invest in plots that may have otherwise lain bare, or to plant alternative cover crops altogether.
On many units we saw the incorporation of clover-rich mixtures to support soil microbes and capture nitrogen and this led to an impressive abundance of wildflowers – something that was certainly welcomed by our vital pollinators and beneficial insects.
Be wary of weeds
Of course, some of you may not have done anything to your plots since this time last year; in which case nature has probably taken its course and you're now faced with a mixture of grass and nettles. There is a small silver lining here in the sense that any grasses or weeds will have offered some protection to the soil to an extent but, of course, these plants have the capability to cause long term challenges if left to thrive. If your plots are looking somewhat overrun it's a good idea to think about options for control now.
Check your soils

A key piece of guidance we share with land managers in the spring is to wait for the right conditions before working the ground. It's important to check your soils to ensure they are dry enough and can take the weight of your vehicles and machinery. Going in too early to flail and cultivate can cause some unwanted headaches later on.
One way to check the status of your soils is to simply get a spade and dig. By checking a few areas, you'll get a greater understanding of the conditions you're dealing with. Crucially though, while a spade is invaluable, it can't give you the detailed insight and that's something you can never have too much of when it comes to soil.
I always encourage my customers to speak to their advisor or agronomist and arrange for some in-depth soil sampling. A sampling kit can paint a useful picture, particularly when it comes to pH and nutrient availability. Quite frankly, the more you know the better you can plan ahead – particularly if there are improvements or changes required before you can really get going with your cropping plans.
Consider the opportunities available with Countryside Stewardship
In a previous blog my colleagues highlighted the period of transition the agricultural industry now faces, specifically the end of the 'BPS era' and a move to 'payment by results' when it comes to environmental land management.
It may be that you already have a great scheme in place but, if you don't, it's worth considering the opportunities you are now presented with.
The ways that farmers are paid to manage the land is changing and 2021 marks the start of a new chapter for environmental policy. For farms with sporting interests, there are some considerable benefits to be seen and a lot of food for thought.
The application window for Countryside Stewardship (CS) opened on 9th February and the scheme will continue to accept applications for the next two years ahead of the rollout of the Environmental Land Management (ELM) scheme. While this may seem like it's some time away yet, it's important to stress that simply 'waiting for it' to roll around might not be the best option; it could make a big difference in terms of how you benefit from it. With CS still continuing for a few years, it serves as a useful stepping stone ahead of ELMs coming to fruition.
Stewardship and agri-environment agreements of the future will require a whole-farm approach, so why not use CS as an opportunity to learn, build and develop collaborative projects that reward you in the meantime? At Kings we're very pleased to be able to offer bespoke support in this area – as well as provide expertise when it comes to delivering on the requirements of your agri-environment options, we will also work with you to prepare, plan and submit your application too. Once you have a CS agreement in place, we'll provide you with a tailored folder containing:
Your full CS agreement
Whole farm/estate plan with all options plotted
Specific scheme option sheets which detail your payment rates and guidance around establishment
A calendar tailored to your agreement which outlines key management periods and advice.
If you'd like more information about how we can support you with a new or existing CS agreement, please speak to your local advisor or get in touch.
Combining stewardship and sporting projects with wider crop production plans
As the industry embarks on this whole-farm approach to environmental land management, understanding and working with the 'bigger picture' has never been more important.
To support the planning and delivery of sporting projects and stewardship options that complement a farm's wider crop production strategies, we've teamed up with our colleagues at SOYL to design an online environmental mapping and recording tool.
The environment manager tool is part of SOYL's MySOYL application – available in MyFarm – and is designed to support famers, game keepers and land managers to manage their natural capital and plan stewardship agreements, shoots and game crop amendments. With everything available at your fingertips, it eliminates the need for extensive paperwork and drawings (say goodbye to your pack of highlighters!) and, because it's an interactive map layer, the tool works alongside other aspects of crop production data so the whole farm team can manage everything in one place.
More information is available in our 2021 catalogue or you can learn more on our website.
Support for the sporting industry
In amongst this 'agricultural sea change', it's important to recognise that it's been a testing time for the gamekeeping community.
The impact of the coronavirus on the 2020/21 season has been palpable. As well as events being cancelled, the ripple effect has been far reaching with caterers, accommodation venues, loaders, beaters, drivers, picking-up teams and instructors having to adapt to changing restrictions and rules. For many there have been burdens to bear in terms of changing workload and management, while others have felt significant financial strain.
At Kings, we work very closely with the Gamekeepers Welfare Trust (GWT) and have a long-standing relationship with the organisation. For a number of years we have donated a proportion of our seed sales to support its services to gamekeepers, ghillies, stalkers and their families which provide assistance on a number of issues including health, employment and housing. You can read more about our recent donation and support of the GWT here.