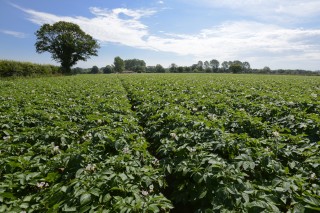 Since the loss of the desiccant diquat last February, growers have had to look at alternatives in their potato crop burn-down programmes. For many, this means a closer look at nitrogen applications is also needed.
Most growers have turned to PPO inhibitors as an alternative to diquat for desiccating their potato crops. However, as PPO inhibitors work differently to diquat, this has an impact on subsequent nitrogen rates.
PPO inhibitors: What this means for desiccation preparation
As a desiccant, diquat delivered instant results while growers won't expect to see the effects of PPO inhibitors until five days after application. For this reason, many growers have invested in haulm toppers in order to rapidly defoliate the crop before following up with a PPO inhibitor.
In some cases, there may be a need for an application of the PPO inhibitor before topping in indeterminate varieties. However, there will need to be seven days between application and topping to get the best effect from the PPO inhibitor. With this in mind, my advice is to start crop defoliation a week earlier to ensure marketable yield is captured and skins set for harvest.
Nitrogen management in the absence of diquat
The management of nitrogen in potato crops is important for numerous reasons. Nitrogen has an impact on plant health and yield in seed and ware crops along with influencing senescence, affecting the skin set and subsequent readiness of potatoes for storage until the crop reaches its end market.
There are many factors that will influence the application rate of nitrogen on potatoes but one of the most important is personal experience of the variety and fields. Growers must take into account past seasons and factors such as the weather patterns before and after planting.
These decisions can be optimised using tools such as SRUC TB 731 and the newly updated RB209 nutrient management guide from the AHDB. These tools can be used to help ensure you stay within the parameters of guidelines for nitrate vulnerable zones (NVZ). These technical aids help identify levels of residual soil nitrogen from previous crops and pinpoint the finer details of nitrogen requirement for indeterminate and determinate varieties.
Calculations for the optimum nitrogen application rate should also take into account the nitrogen in any organic manures applied by making use of a tool such as Manner NPK. Before applying manure, growers should check end market protocols for any measures prohibiting the use of organic manures on the potato crop.
Last season was different to the one we are about to encounter as we have had the coldest winter for maybe ten years in addition to the loss of diquat as a desiccant.
This season, growers are faced with the potential challenge of needing to minimize the base nitrogen dressing in order to reduce the risk of excess potato haulm. This should then be followed up with application of a suitable nitrogen product to maintain the canopy where required.
For this purpose, it's important to make use of products that have a controlled release of nitrogen and contain complementary biostimulants in order to aid nutrient uptake, nitrogen assimilation and the production of amino acids and protein.
My product of choice last season was Nutrino Pro, which contains the key nutrients nitrogen, magnesium and sulphur, delivered whilst the crop is growing. It's a product with low scorch and volatilization risk, making it perfect for the hot weather of 2020.
When choosing Nutrino Pro for my nitrogen applications, I considered the multiple factors at play. We must remember that during the growing season, nitrogen is taken up rapidly to build canopy to 100% ground cover. However, if this uptake is interrupted for some reason, such as by the use of solid nitrogen during dry weather, we end up with restricted ground cover, which will reduce yield. In this case, yield can be improved by applying Nutrino Pro, or a similar product, while the canopy is growing towards 100% groundcover.
Yet growers may find that even if enough nitrogen is taken up to achieve 100% groundcover, it may not be enough to maintain that groundcover for the period needed to achieve full yield. In this case, yield can be improved by applying Nutrino Pro or a similar product in order to maintain the groundcover until the full yield has been achieved.
In either instance, the benefit of a nitrogen product such as Nutrino Pro is to ensure that optimum yield and quality is indeed achieved.
Final thoughts for the 2021 season
My advice for the 2021 season is to take into account the history of your field along with this year's generally very excessive winter rainfall and, most importantly of all, target your harvest date accordingly. Remember, if you need extra nitrogen, you can top up levels using products such as Nutrino Pro mixed with blight fungicides to protect and nourish the growing crop.