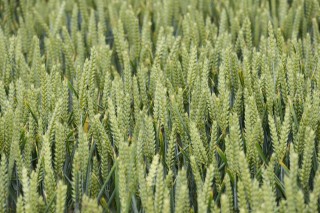 As my colleague, Edward Downing, explained in his blog about final nitrogen decisions for cereals, the wet autumn and winter has really thrown up some challenges.
After extensive rainfall early in the new year, we went into one of the coldest but driest spring seasons on record. Today though, I think we'd all agree that weather pattern has broken. May has, so far, been riddled with unsettled conditions – you might forgive some people for thinking we were actually in October.
That wet weather over winter caused large amounts of mobile nutrients to be leached and as a result, we started spring growth with lower levels than those which are normally available. For milling wheat growers in particular, the impact of this has continued to pose a real conundrum in terms of nitrogen rates and programmes for this spring.
As you can see in the table below, yield has a significant influence on the amount of nitrogen that a crop needs to take up to achieve the full 13% protein specification that millers look for. This requirement represents both the amount of applied nitrogen fertiliser and the amount of residual soil nitrogen the crop needs to take up. However, we also know that fertiliser isn't used at 100% efficiency. Indeed, on average we know it is closer to 60% efficiency and with the extremely dry conditions during application in March and April, that figure could be lower.
What is the potential yield?
As Edward covered in his blog on cereal requirements, calculating the predicted yield can really help to influence any decisions you make regarding rates and applications. I'm sure I don't need to tell you it's virtually impossible to be exact (once again, we're led by the weather) especially given that 60% of overall biomass is produced after the flag leaf has fully emerged.
However, tiller numbers and biomass imagery can be a great help. Importantly, local knowledge can be valuable too.
Utilising satellite imagery
As with other cereals, satellite images can offer valuable insight into your milling wheat crop and areas identified as having a high Leaf Area Index (LAI) will have greater potential. Our colleagues at SOYL recommend using its 'Nitrogen Reverse' variable rate model as this puts more nitrogen on those high biomass areas, thereby optimising yield and maintaining those vital protein levels. Trials that have been conducted with this variable method showed an average increase of 1.3% grain protein above an equivalent flat rate programme.
Alternatively, average LAI values of whole fields can also be used to assess yield potential at the field level and, alongside the figures in the table above and lower Soil Nitrogen Supply (SNS) indices, adjustments can be made to nitrogen rates accordingly. Users of our MyFarm farm management platform can access biomass imagery via the MySOYL application, and you can learn more about its range of uses in this blog.
Assess the current condition of your crop
While the above methods are a great way to help inform any application decisions, it's also sensible to get some detail on crop condition too.
You can measure the nitrogen content of your flag leaf, either by tissue testing or using a N-Tester to determine the status of the crop. All of the information gathered can be used to assess whether or not extra nitrogen is required to reach the top milling specification which, this year, could be worth a sizeable premium.
Soil or foliar nitrogen?
At this stage, if it's decided that more nitrogen is needed you are probably now wondering if it should be soil-applied – via solid or liquid application – or whether it should be applied as a true foliar product.
With flag leaves emerging or fully out there is still time for more soil-applied nitrogen to improve grain protein, especially with the current favourable conditions for crop uptake from the soil. However, it is worth noting that if you do plan to make a final soil application it would be sensible to variably apply this based on current biomass, as mentioned above.
This then leaves the question of foliar products. These can make a significant improvement to grain protein, but it is important to understand the options and their limitations. They do though have one big advantage in that the decision to apply or not can come much later, when there is a little more certainty of the yield potential.
Generally, the protein increase that foliar products contribute will be in the region of 0.5 to 0.75% so it is important that your soil-applied nitrogen programme is sufficient to get to at least 12% protein; ideally 12.5% if you are targeting 13% protein. Simply applying a foliar product after a normal feed wheat base programme will not generally work, especially as yields increase.
The choice of product is between a basic foliar urea and a formulated product such as Multi N. With foliar urea, more nitrogen is applied to increase the protein but it has some potential drawbacks in that it can cause crop scorch which hits yield. Foliar urea can also be prone to nitrogen losses, either as ammonia gas volatilised off the leaf surface or because of its inherent lack of rain-fastness.
In comparison, Multi N applies less nitrogen but is formulated to remove these losses and improve crop uptake, delivering a similar amount of nitrogen to the crop without the risk of scorch. It also supplies a significant amount of sulphur, which could be very useful this year given the low soil sulphur levels. Low levels in the plant can restrict protein production.
Conveniently delivered in an IBC, Multi N requires no specific liquid storage. This, coupled with the low use rate of 40l/ha (with 120-150l/ha of water) and added benefit of being rain-fast in 30 minutes, means it is very easy to apply.
Over the coming weeks it's vital for those of you with milling wheat to evaluate the potential of your crops as they develop and to remember that, in terms of yield, there is still a long way to go; roughly 40% of biomass is produced after ear emergence. Of course, good crops could yield very well if the sun really starts to shine and we get sufficient rainfall.
Foliar nitrogen products like Multi N are already integral on many farms but they could be an even greater component for getting enough nitrogen into crops this year.
---
For more information about Multi N and its benefits, please visit our website or speak to your Frontier contact. If you missed our first blog on final nitrogen applications for other cereal crops, you can read it here.
---