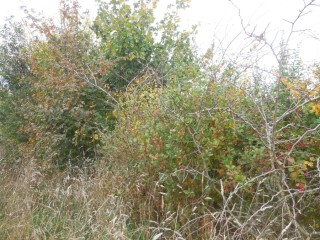 The annual period during which landowners are prevented from cutting hedges under cross-compliance recently came to an end. With this important annual restriction in place to protect wildlife from 1st March until 31st August, it's tempting to set about hedge cutting in earnest come September.
However, there are very good reasons to be selective with your hedge trimmers until January, or even February, to improve the biodiversity of your land.
Why are hedgerows so important?
Hedgerows serve a valuable purpose during the winter offering shelter and food for wildlife. Trim back too vigorously in autumn and you, and wildlife on your land, may pay later.
Delaying or staggering cutting will provide farmland birds with a source of food in the form of berries during the 'hungry gap'. This is the hardest time for birds during harsh British winters, but the rewards for preserving hedgerows go far beyond that.
Hedgerows and woodland edges offer massive benefits to a whole host of wildlife. They are a key element to farmland ecology providing habitats for various species and a number of additional benefits. For example, tussocky grass underneath a well-established hedgerow will give a home to ground-nesting birds and small mammals. These mammals will provide feed for birds of prey such as barn owls and kestrels. Meanwhile, the mammals' disused burrows will in turn provide overwintering habitat for vital pollinators such as the queen bee and predatory beetles.
It's all part of a fantastic farmland ecosystem that starts with a thriving hedgerow!
Come spring, hedgerows are the earliest source of pollen available to pollinators. A sympathetic autumn/winter hedge cutting plan will ensure fruit and pollen production is optimised. Some species, such as hawthorn, flower only on the second or even third year after cutting. Rotating hedgerow cutting in such situations, so that everywhere isn't cut back at once, will ensure a constant food source.
Hedgerow cutting
Before taking a blanket approach, assess the current performance and situation of each section of hedgerow. In this way you'll be able to create a management plan appropriate to each section. Your aim should be to cut back where essential and delay wherever possible to preserve hedgerows as much as you can.
Woodland planning

Management of woodland is another area that shouldn't be overlooked. Thinning, coppicing and clear felling will all help ensure there isn't a monoculture of tall trees without an understorey for woodland birds and other wildlife. Think about your ride management. Cutting swathes slightly deeper will create warm pockets in the sun and away from the wind. These will produce mini habitats for butterflies and pollinating insects in the summer months.
Planting hedgerows and woodland
Given the importance of hedgerows and woodland to the whole farm ecosystem the planting of new hedgerows and gap filling is vital. There are various grants available to support this through the Woodland Trust and the Forestry Commission (FC) - although you should ensure the window for applications hasn't closed.
Grants can be used on an estate to create corridors between existing woodlands or, on sporting estates, to link woodland with cover strips.
So before you fire up the hedge trimmer this autumn, take a closer look and see where you might be able to delay cutting until later in the winter.

Meehal Grint​
Kings technical advisor
For specific advice for your business related to this blog get in touch with Kings.