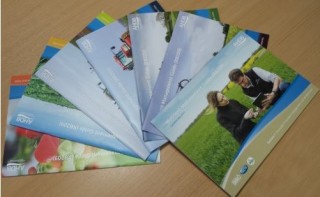 I run the Applications Team at SOYL and we provide P, K, Mg, Lime, Nitrogen and Seed recommendations for over 1 million UK arable hectares. The agronomy models that we use are based on SOYL's 24 years of crop nutrition experience alongside the industry nutrition guide - the RB209.
We have been waiting for the updated version of the new RB209 since it was announced several years ago. When it finally landed on our desks a few weeks ago it was quite an interesting read with some new advice that merits discussion.
Following several conversations with growers and agronomists I thought it would be worth discussing the key changes that impact crop nutrition decision making.
Something which really struck all of us in the team was the number of changes in nutrient content for the different types of muck. It certainly backed up the need for proper nutrient analysis on farm when organic manures are being used.
P content in sludge
One change that particularly stood out was the reduction in available P from sewage sludge/biosolids. Previous versions of the RB209 suggested that a standard application of sludge (approx 22t/ha) would apply 198kg P2O5 - more than enough for 2 years cropping. However, more recent analysis and new RB209 figures suggest the same rate only supplies 121kg/ha P2O5. This is a significant reduction, which would struggle to cover two years' requirement on anything lower than index 2.
Anaerobic digestate
It was also pleasing, from a SOYL perspective, to see figures added for the different types of Anaerobic Digestate (AD) available to farmers. The figures show that where your AD derives from and what the AD plants 'food' is will clearly impact nutrient content. Again, this backs up the need for actual analysis of nutrient content in these applications.
As the number of AD plants continues to rise in the UK, the hectarage of wholecrop being grown to supply them has also increased dramatically. To see figures for this added to the new RB209 was pleasing. However, when we sat down to look at these we found that wholecrop figures were virtually the same as the grain and straw offtake figures for a standard yielding crop. We have contacted AHDB for clarification as we feel there has to be some difference in the offtake due to the earlier harvest date.
The inclusion, and prominence, of sulphur within the new document was clear for all crops. Considering it is such a vital macro nutrient it seems incredible to me that roughly 50% of cereals and 30% of OSR still receive no sulphur fertiliser. Large areas of the UK are at risk of Sulphur deficiency and with such small amounts being deposited by the atmosphere (approx 7kg SO3) it is vital to get a sulphur application on during the spring. Without sulphur, where the risk of deficiency is high, yield will be reduced; nitrogen will not be fully utilised and grain quality will be reduced.

One area where I felt a lot of work had been focused was the simplification of recommendations in section 3: Grassland. Previous RB209 versions have made making grass recommendations for most people confusing. The new RB209 has changed the way fertiliser requirements are calculated with a general move to reflect the intensity of grass production on the farm, rather than the system it is for. This change can only be beneficial to the industry as a whole.
There were some other smaller changes worth noting as well:
Change in the tonnes of lime required to raise pH on organic soils
Slight changes in offtake figures for selected crops
New crops added to reflect diversification of crops grown in the UK: sunflowers, baby leaf lettuces, rocket and herbs.
Overall, the changes made to the new RB209 will probably not significantly alter the phosphate and potash usage on UK arable farms, but I hope it does prompt farmers and advisors to review their current strategy to make sure it is in line with this new advice.
Gavin Campbell​
Applications team leader
For specific advice for your business related to this blog or any other aspect of precision crop production get in touch with SOYL.