23rd June 2023
Throughout June and July, Frontier Agriculture is inviting growers to a series of open days across its nationwide network of '3D Thinking' demonstration sites, with experts sharing the latest variety trial results, nutrition recommendations and sustainable farming solutions.
While variety selection for the new season is top of the agenda at the events, Frontier's specialists are also sharing specific advice around the wider environmental and economic challenges affecting the industry. This includes offering guidance on the new urea stewardship regulations, as well as the Sustainable Farming Incentive (SFI).
James Moldon, head of technical services at Frontier, says, "Our trial demonstration sites are designed to investigate crop production approaches in the conditions and challenges faced by local farmers.
"The open days are therefore an opportunity to see first-hand how varieties perform regionally, with trials assessing different input programmes and management also helping growers make evidence-based decisions about their own rotations."
Frontier's 3D Thinking initiative is a research and development programme based on a model of 'Discovery', 'Development' and 'Demonstration' designed to find crop production solutions for growers and the wider agricultural industry while supporting advisors to continually expand their expertise.
"The open days are an important forum for discussion. Growers can share their knowledge and experiences with one another and our specialists, as well address the factors driving change in the industry and what that might mean on farm."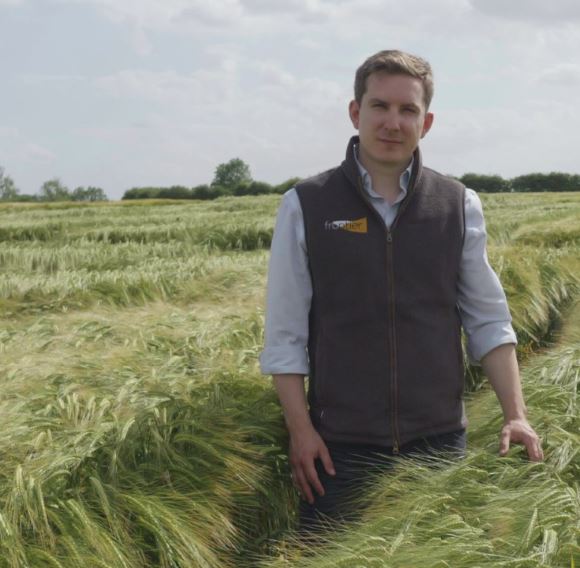 Variety selection
Speaking of some of the stand-out variety options this year, seed business development manager, Jim Knight says: "There are some which are clear favourites and set to be very popular – but it's important we support growers to get the most from them relative to their own farm's conditions and challenges they may face.
"In wheat, Champion, KWS Dawsum and KWS Extase remain the top picks because of impressive disease resistance and resilience. There's a lot to consider to ensure they deliver though, such as where in the country they are being sown, at what time they are drilled, the soil type and where best they fit in the rotation.
"In barley, a new two-row conventional variety, LG Caravelle, is set to be popular following a display of high yields, good bushel weights and disease resistance, while in oilseed rape new variety Tom has taken the crown as the highest yielding conventional available and there are several new hybrid options bringing improved yield and disease resistance.
"There's certainly plenty to discuss and given the season we've had, we anticipate many questions about how best to plan for 2024."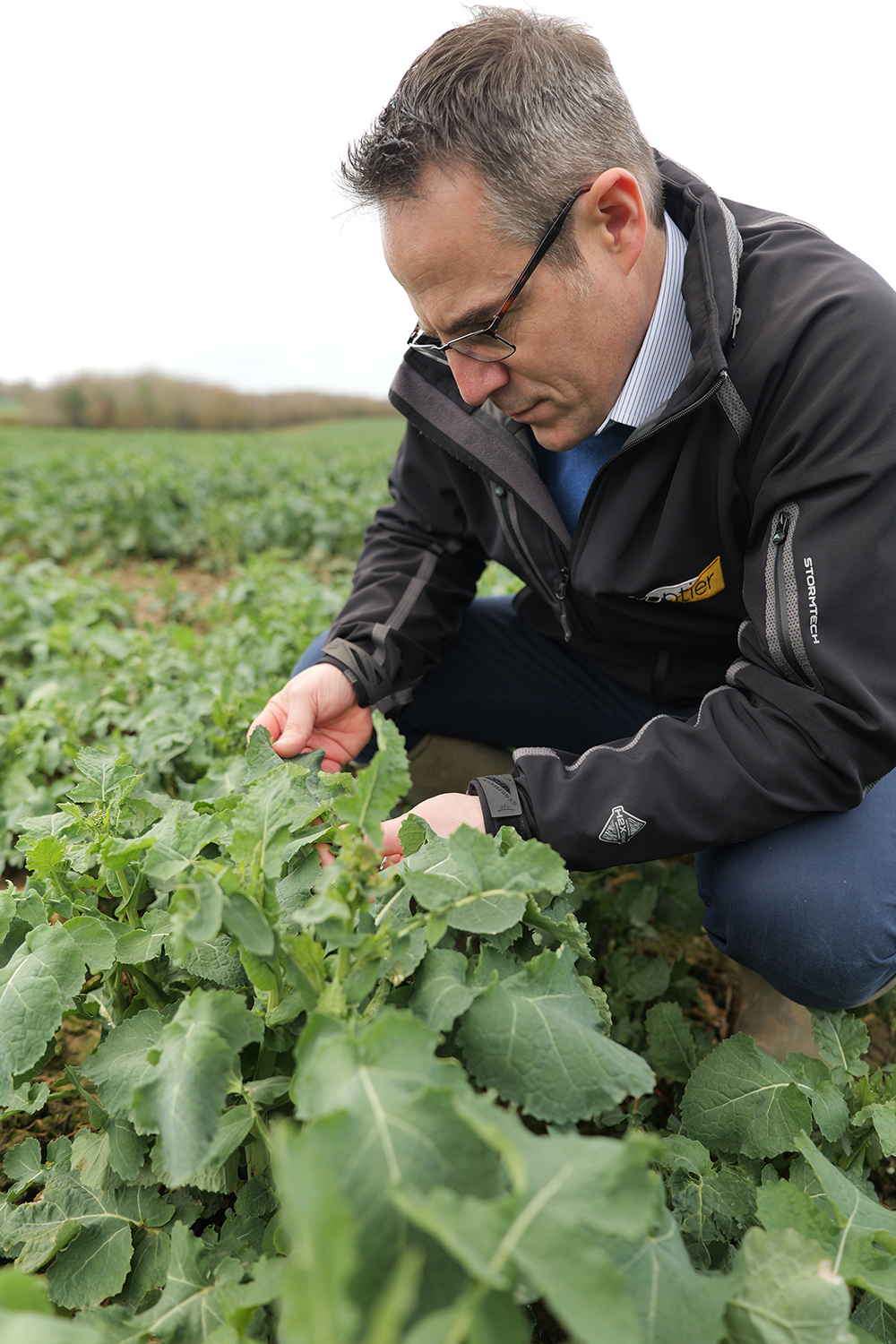 Crop nutrition strategies
Another popular topic will be nutrition programmes for the new season, particularly in light of new regulations from Defra around urea stewardship.
Speaking about what has been confirmed so far, national crop nutrition technical manager, Edward Downing, explains, "It's been a really volatile season in terms of fertiliser pricing and product availability, but increased demand for urea has driven the new regulations forward so there's much more for growers to think about now."
The UK has a legal requirement to reduce ammonia pollution by 16% before 2030 and while the industry is focused on improving efficiency and reducing losses, regulatory stewardship has been put in place to avoid a breach of emissions targets. From 1st April 2024, and each subsequent year any solid urea/liquid UAN fertiliser will need the inclusion of a urease inhibitor.
"In our own trials testing the agronomic benefit of urease inhibitors we've seen really promising results, with increased yields and grain quality and nitrogen use efficiency notably improved too. While we understand the changes will undoubtedly raise questions and even concerns, with the right advice there are some important benefits to be seen. There are some impressive products available, so the open days are a great opportunity to look at these in more detail."
The nutrition team is also talking growers through its series of trials looking at the impact of different rates, products and programmes, including 'greener' fertiliser options.
Edward continues, "We've tested some new 'greener' products in recent years and the results have been very promising. Ultimately, it's vital to base adoption on expert advice and evidence, but we've seen innovative products that could be welcome additions to some nutrition programmes."



Sustainable crop production solutions
Core to the open days is also the opportunity to learn more about the expertise and services available from Frontier to support sustainable crop production strategies, with particular focus on opportunities tied to the SFI.
The business' approach to sustainable farming covers seven focus areas: crop growth cycle, soil function, carbon management, regenerative agriculture, environmental management, digital solutions and compliance, with specialists from each area and Frontier's divisions, Kings Crops and SOYL, on hand to share advice.
"The areas are fundamental to long-term, resilient, productive farming systems," says James Moldon. "Given the transition happening within agriculture and increasing requirements placed on farms as a result of new policies and supply chain criteria, many growers are eager to learn more about the support available.
"The open days bring all of that together, linking farmers to services and advice no matter where they are on their journey to a more sustainable future. For example, we're looking at soil health management and its impact on crop performance, how to improve farm biodiversity while making unproductive land work harder, integrated pest management strategies, the role digital tools can play for benchmarking performance and how innovations such as our closed transfer system can improve operator safety, reduce plastic use and optimise application programmes. It's about linking growers to practical approaches that support businesses to be profitable and sustainable."
The locations and dates of Frontier's remaining open days can be found here.
2023 virtual trials tour and new Autumn Seed Guide
As well as its summer events, Frontier is sharing more of its trial site insights though two online video series and a new Autumn Seed Guide.
For the third consecutive year, the business' seed and nutrition experts have stepped in front of the camera to walk viewers through a range of trials and research programmes, bringing 3D Thinking insights to those not able to attend the open days or who want to delve even deeper into the trials data.
The series are available below:


| | |
| --- | --- |
| 2023 Frontier variety trials - result and recommendations for 2024 | 2023 Frontier nutrition trials - insights, learnings and current research |
| | |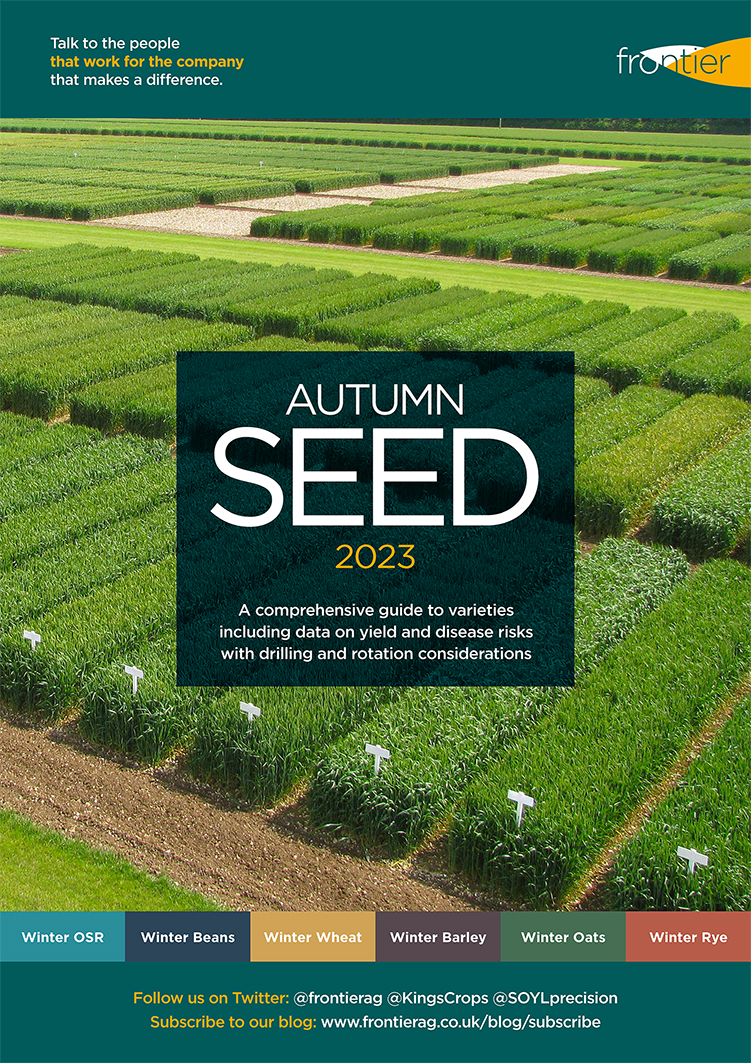 More specific crop performance information to aid variety selection is also available in the 2023 Autumn Seed Guide.

The latest edition covers 50 varieties of winter oilseed rape, wheat, barley, oats, rye and winter beans and includes information on Frontier's seed standards and crop management services.