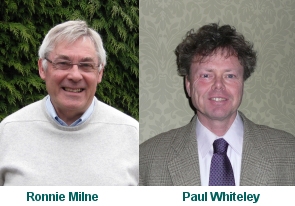 Frontier Agriculture has signed a deal this week to bring Grampian Crop Services into its portfolio of companies from 1st March 2011.
Grampian's team is led by two experienced agronomists Ronnie Milne and Paul Whitley, and the company has been trading for 19 years.
Speaking of the changes Ronnie says: 'We have a strong customer base established in the area and by joining Frontier we are able to secure the long term future for Grampian and the services we provide to farmers. Being part of Frontier will also help us to provide a more rounded offer because Frontier has such a wide base of knowledge and experience in all aspects of arable farming. We can now link farmers with that additional expertise.'
Andrew Ainslie, General Manager in Scotland for Frontier says: 'We're delighted to welcome Ronnie and Paul to Frontier. Providing expert agronomic advice is one of Frontier's strengths nationally, with a team of more than 80 agronomists that is still expanding. We have a strategy to widen the services we provide to customers north of the border too and bringing Grampian in will help us achieve that.'
Grampian Crop Services will continue to operate from its premises in Turriff under its current name, as a trading division of Frontier Agriculture. They are ideally located to provide services for farmers in the region.