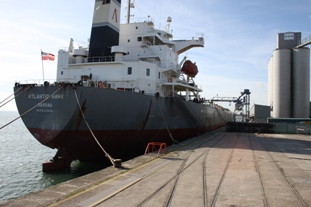 For the second time this summer Frontier Agriculture has organised the shipping of British grain bound for export markets on board a Panamax vessel. The movement of grain on a ship of this size is a relatively rare occurrence and the huge cargo of feed wheat will set sail from the company's Southampton Grain Terminal later this month.
Jon Duffy, Trading Director for Frontier Agriculture said: "The loading of ships of this size is quite unusual but this is the second one we have recently organised. In June we saw a Panamax leave for Vietnam, loaded with old crop wheat and this time it's a cargo of new harvest feed wheat destined for Thailand.
"In an increasingly global marketplace we have responded to weather issues affecting Russia's harvest and the subsequent ban on Russian exports which reduced available crop from the Black Sea region. The trading team at Frontier monitors world markets and with a traditional source of grain removed from play, British grain became even more attractive globally. We were able to explore new opportunities and market grain to destinations further afield, negotiating some excellent terms on behalf of our growers."
The loading of the 57,000 tonne vessel, Atlantic Hawk, started on the last day of August and is expected to take 10 days. Panamax ships are so called because they are the largest vessels available that are capable of navigating the Panama Canal.
Frontier is the UK's largest crop inputs and grain marketing business, managing the sale of more than 4.5 million tonnes of grain per annum. Frontier exports more than one million tonnes of grain to countries including Spain, Portugal, Netherlands, Germany, Italy and North Africa. Grain is exported from a number of UK ports, with SGT alone exporting 350,000 tonnes this year.
Photograph show the Atlantic Hawk in port at Southampton Grain Terminal awaiting cargo.