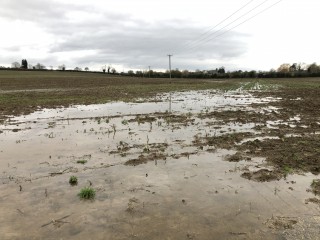 This is the second in our series of blogs looking at the importance of P and K applications. To read the first blog from SOYL Technical Manager, Simon Griffin, please click here. To read the third and final blog, please click here.
---
We've certainly seen Mother Nature go from one extreme to the next in recent months. Given the incredibly dry April and May experienced this spring, it is difficult to comprehend that February was actually the wettest on record. Let us not forget that this also followed the consistently above-average rainfall throughout autumn and winter too.
The epic challenge to establish autumn crops ensued and it resulted in one of the smallest winter wheat and barley crops for decades. However, a generally kind March and early April allowed for some substantial spring cropping. While somewhat of a forced change for many, this - coupled with the extremes in weather - has significantly impacted the nutrition requirements for this and potentially next year's crops.
The main impact of the wet autumn/winter was large quantities of nitrogen and sulphur being leached down and out of soils. In the very wet areas, potassium will have also been moved down the soil profile and even away from very light, sandy soils altogether. Thankfully, phosphate doesn't readily move in soil, so will not have been lost in any quantity - unless there was significant erosion moving the soil and bound phosphate out of the field.
However, another significant effect on phosphate and potash nutrition, courtesy of the weather, was the lack of suitable conditions to apply planned fertilisers, lime and - in particular - manures. As a result several fields were missed, with applications moved to those which had suitable soil conditions and could be accessed following the cropping changes.
Analyse your soils ahead of replacing lost nutrients
You have already seen from the previous blog how vital phosphate and potash are to optimise crop growth and yields. This is further emphasised in the response curves shown in the graph.
Given the recent weather impacts, it will be more important than ever to accurately plan for next year's crop. Also of note is that the extremely dry conditions in April and May have highlighted substantial differences in rooting and water management between crops.
Soil structure has had the biggest influence on rooting and many growers have reported seeing the benefit of phosphate, as either fresh applications or having good inherent soil levels. Many crops have also benefited from good soil potash levels by withstanding these dry conditions and maintaining growth for longer, although even that hasn't been enough in some cases this year.
Good planning starts with an up-to-date soil analysis. Any fields that haven't been sampled for three or more years should be done as a matter of urgency, especially those light soils that may have lost some potassium.
Obviously, fields where potassium levels are of concern would be a priority for application next season. For those fields where you do have recent results it will be vital to get the records correct from this year's cropping in terms of the actual fertiliser and manure that was applied, but also in terms of yield results too. There is likely to be a significant variation between fields given the extreme weather.
Pulling all of this information together will give you the most accurate picture of the nutrient levels in your fields so that you can make informed plans for next year.
The recipe for success is fairly simple too - the more accurate you can be, the better you can target your phosphate and potash spend to where it will be most responsive.
How do you make sure next year's crop gets off to the best start?
As well as thinking about the applications required now, you need to stand next year's crops in good stead too.
The final blog in this P and K series from SOYL Technical Manager, Simon Griffin, explores how best to prepare for next year to ensure you get the most from your phosphorus and potassium applications.