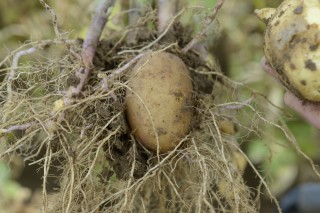 Potatoes are not unique in this respect, but virtually all of their macro-nutrients applications are made before the crop is planted and well before the peak uptake of nutrients that happens 60-75 days after emergence. This, coupled with the plant's naturally poor inherent ability for rooting, means that efficient uptake of nutrients is always challenging.
One nutrient that is generally applied to the growing crop is nitrogen. Typically, 70% of the requirement is supplied with the P, K, Mg and S in the seedbed, but the remaining 30% is top-dressed at tuber initiation. I recognise that this split application is only required for higher nitrogen-demanding crops (180kgs/ha+), as varieties with a low demand or short season crops tend to receive all their nitrogen in the seedbed application. However, this is well ahead of peak uptake and poses the question: Are we meeting the crop's nitrogen demand later in the season when maximising growth is so important?
It's at this point that I'm keen to remind growers with early summer-established crops (not just potatoes) that we experienced significant nitrate leaching from this year's excess winter rainfall – highlighted by CF Fertilisers' N-Min service.
We found that, on average, the Soil Nitrogen Supply (SNS) index had reduced from an index 2 to an index 0 and so our planned total nitrogen application potentially needs to be reviewed. For example, if we use Group 3 varieties (90-120 days), the revision down of SNS from index 2 to index 0 could increase the nitrogen recommendation by as much as 80kg/ha N. With this in mind, I think there needs to be a careful reassessment of nitrogen rates for top dressing this season.
As we look at top dressing our potato crops, it's worth remembering that it is assumed within RB209 that for medium soils any soil-applied nitrogen application is only 60% efficient on average. This is without any consideration of soil moisture (or lack thereof), or the potato crops' poor rooting nature which may well reduce this efficiency.
Therefore, could we actually bypass the soil and look to feed the potato crop through its canopy, to improve this efficiency?
The problem with this method is potato foliage is very sensitive to damage, which is then further compounded by a subsequent increase in blight risk associated with any damage. Any product used in this way therefore needs to be incredibly crop safe.
Thankfully, a crop safe product is exactly what you get with Nutrino and Nutrino Pro. Formulated by IntraCrop, they are very compatible within tank mixes and rainfast in 30 minutes, making them very straight forward to include within the programme.
In both products, the nitrogen source is in a slow release form that provides the longevity required to support the crop demand through the season, as demonstrated in the nutrient uptake graph above. It is worth noting that, due to these benefits mentioned above, these products are also well suited for use in maize when applied at the 8-12 leaf stage; another crop where all of the nutrients are applied very early and well before peak uptake.The two product formulations differ slightly, as shown in the table.
Nutrino Pro has a slightly lower nitrogen content than Nutrino, but it brings in a valuable supply of magnesium and sulphur at a critical growth stage alongside the pidolic acid and R100 biostimulants. These will help to support the crop through any stress situations, while also improving the efficiency and assimilation of nutrients within the plant.
There are two ways that these products can be used in potato nutrition programmes.

As a direct replacement or in addition to solid or UAN top dressing
Experience on farm has shown an application at 20l/ha can potentially replace the effect of 40kg N/ha of soil-applied nitrogen. This application at tuber initiation will provide the most efficient source of nitrogen supplied directly into the crop canopy, and it can be applied with blight sprays with no increased risk of scorch.

Tank-mixed with mid-season blight sprays at rates of 5-10l/ha; here we are looking to maintain the green leaf area to maximise yield. This might be of great use in a season such as this where, due to the over-winter nitrogen losses I mentioned earlier, our crops may show signs of stress or lack of nutrient later in the season where we wouldn't usually expect it. Also, with the loss of diquat for crop desiccation, these products could also be very useful in managing the crop canopy for haulm senescence.
Ultimately, improving the efficiency of our applied nutrient use is a key way to reduce the environmental impact of growing the crop but it also helps to deliver yield, quality and - importantly - crop margin to you.
You can learn more about Nutrino Pro in the video below, and information about both products is available from IntraCrop's website or from your Frontier contact.