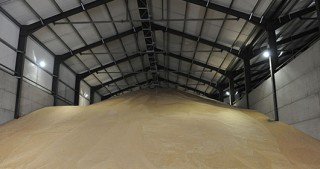 The ability to store grain can be a fundamental aspect of a crop marketing strategy, providing growers with the opportunity to sell for later movement.
Of course, this can only be successful when effective grain storage facilities and management plans are in place, as these are pivotal for safeguarding premiums and grain quality to lessen the risk of rejections and claims.
Importance of pest control
​Pests can be a significant threat to stored grain and successful control requires an integrated approach that includes good store hygiene, regular monitoring of pest activity and, if appropriate, applications of pesticides.
Grain storage pests can be split into two categories:
Primary pests such as the saw tooth grain beetle or grain weevil. These generally impact on intact quality grains
Secondary pests such as the hairy fungus beetle. These feed on the residues left behind by primary pests.
You can find more information in Insects and mites in stored grain and grain stores | AHDB.
All grain store pest lifecycles are temperature dependent – the warmer it is, the faster the lifecycle and the greater the numbers. It is therefore imperative that stored grain is kept cool although there are different temperature thresholds to be mindful of. Temperatures below 13°C can help to reduce the reproduction of saw tooth grain beetle, however, temperatures must be below 12°C to minimise the impact of grain weevil. Caution should be taken though depending on the crop type and scenario. For example, for malting barley, temperatures below 10°C can induce secondary dormancy.
Insects and mites are most likely to be introduced to stored product from the store structure and equipment.To prevent the chance of infestation, stores should be rigorously cleaned prior to intake.
A good store hygiene plan
Store cleaning is crucial and should be done as early as possible – ideally at least two months before crop storage is required.
It's important to remember that even empty stores can be at risk of infestation, particularly if there is debris from a previous crop. As a result, as well as monitoring the obvious areas, you should be sure to check and clean awkward and inaccessible places, including roof spaces and ventilation ducts, tops of dividing walls, grain driers and grain handling equipment.
Finally, check that buildings are structurally sound in as much that rook sheets are intact, rainwater guttering is functioning correctly and all doors shut properly.If it so happens that you end up needing to treat grain once it is in store, you're looking at an expensive and time consuming job. Prevention is definitely better than cure.
Pest monitoring and treatment
​Once the store has been cleaned, it is advisable to check for the presence of pests using pheromone traps.
These should be placed strategically around the grain store at approximately five metre intervals to help give an indication as to whether chemical treatment is necessary.Where structure treatment is required (and with the loss of chlorpyrifos options), pyrethroid insecticides - for example Talisma EC® or K-Obiol EC25® - are likely to be used.Ideally, treat the fabric of the building six weeks prior to loading with grain to target all stages of the key pests' life cycles.
As well as traps, smoke generators such as Actellic® Smoke Generator No. 20 can also be used to knock pests out of roofs and crevices after applying structural treatments.
It's not just insects and mites that can prove problematic. Rodents such as rats and mice can be responsible for significant levels of grain-spoil too. As well as the obvious grain losses through feeding, they can also contaminate much larger quantities through contact alone. It's not just the grain at risk too – rodents can cause substantial damage to storage structures and machinery in their bid to gain access to certain areas.
With this in mind, always monitor for evidence of rodent infestation and review your control strategies. You should always use secure, commercially-approved bait boxes and ensure that vermin bait cannot contaminate any stored grain. Bait boxes should always be placed outside of the store too so as not to encourage vermin inside.
Key reminders for pre-harvest store preparation:
Clean down the store as early as possible – up to two months before storage. If treatment is required, this should be done six weeks ahead of harvest to target pests at every stage of their lifecycle
It is important to clean and treat the store thoroughly so that the cracks, crevices and roof spaces which harbour pests aren't missed
Monitor for pests before and throughout the grain storage period – it's much easier to stop them before they take hold
Ensure that any insecticide is applied according to the label. Inaccurate applications are linked with increasing incidences of resistance and simply won't work the way they should.