The latest edition of Frontier's e-newsletter brings you news and crop production advice from our expert team. We hope that you find this useful and informative. We welcome your feedback; you can email us at This email address is being protected from spambots. You need JavaScript enabled to view it..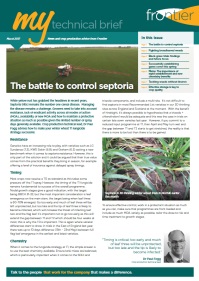 Topics covered in this edition:
The battle to control septoria
Fighting broadleaved weeds
Black-grass trials findings and future focus
Successfully establishing game cover this spring
Maize: The importance of rapid establishment and new chemistry benefits
Tackling weeds without linuron
Effective storage is key to crop quality.
Click here to view My Technical Brief
Having trouble viewing this link? Click here for a PDF version.