5th June 2020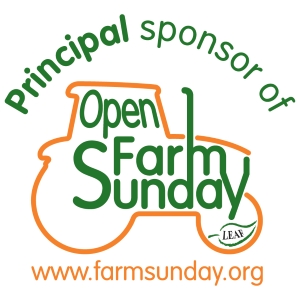 Frontier Agriculture has committed to support Open Farm Sunday – UK agriculture's annual open day – as a principal sponsor for another three years. This year's OFS will be hosted on Sunday 20th September and will mark the 13th consecutive year that Frontier has financially supported the national event.
Open Farm Sunday usually sees hundreds of farmers, including many Frontier customers, opening their gates to the public to help them discover how farmers grow crops for food, clothing, medicine and fuel, through to the science and technology behind farming and crop production.
This year's Open Farm Sunday was originally scheduled to take place this Sunday, 7th June. Whilst farm visits are unable to take place on this date, OFS will be hosting an online open day from 8am – 8pm through social media, with farmers offering live virtual walkthroughs of their farms throughout the day.
Open Farm Sunday is managed by LEAF (Linking Environment and Farming) with cross-industry support, including the following principal sponsors: AHDB, Arla, Asda, BASF, Co-op, DEFRA, Farmers Weekly, Frontier Agriculture, John Deere, Kellogg's, LEAF Marque, National Farmers Union, Sainsbury's, Tesco and Waitrose.
Speaking about the sponsorship, Mark Aitchison, Frontier's Managing Director said "We recognise the importance of helping people to understand more about how their food is produced in a sustainable way. We are delighted to support our farmer customers and the wider farming industry through our continuing involvement with Open Farm Sunday."
Farmers who want to learn more and find out how to open their farm on Open Farm Sunday should register at www.farmsunday.org.