Crop growth stages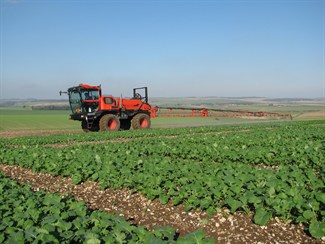 Conditions have been very mild for the second consecutive month, with total rainfall lower than the 20 year average at all three Frontier trials centres.
Crop growth and development has been rapid and establishment generally more even at our Haywold and Cammeringham sites than at Horningsea.
Although slug activity has been generally low this autumn, activity should be monitored especially where crops have yet to be drilled or in recently sown fields.
Incidence of gout fly eggs has been low at all trials sites this autumn, although eggs were found at Frontier's blackgrass trial site near Newark in Nottinghamshire.
Wheat bulb fly
It has been reported that wheat bulb fly egg numbers are generally lower this autumn compared to last season although egg numbers have been found to be high where crops follow potatoes. Indeed, the egg numbers from soil samples taken at the Haywold site on 30th September 2011 (following maincrop salad potatoes) are relatively high (1.11 million eggs/ha).
A decision whether to apply an egg hatch spray will be taken after the winter. At the moment, plants are well established with above average tiller numbers.
Wheat bulb fly can have a devastating effect on spring barley crops when larval hatch coincides with seedling emergence and growth. The use of a specialist seed treatment can be very effective in limiting damage from wheat bulb fly in the crop.
Winter cereal disease
In early November, mildew was present on the leaves of all winter barley varieties at Horningsea, along with low levels of net blotch on Sinatra, KWS B99, SY Venture and Winsome. At Haywold, mildew was present on all varieties except Sinatra whilst rhynchosporium had started to develop on the leaves of many varieties but in particular, Florentine, Matros, Cassata, Winsome, SY Venture, Archer and SY 20972.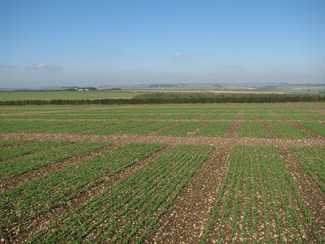 Mildew levels are higher in winter wheat plots at all sites (compared to last season) but especially at Cammeringham and Horningsea where the very mild conditions along with occasional damp weather has encouraged the disease. Claire, Scout, Tuxedo, KWS Target, Beluga, KWS Solo, KWS Santiago and Solstice had generally the highest infection levels whilst Havana and SY 109056 (both in 2012 Recommended List Trials) had the lowest.
No brown or yellow rust pustules have been found in winter wheat at any of the trials centres although there have also been reports of brown rust in susceptible winter wheat varieties. Septoria tritici has been found at Horningsea in the second wheat trials, sown on 20th September.
Whilst autumn fungicide applications are not planned for the cereal trials at the centres, there are reports of mildewicides being applied to susceptible varieties especially where grown on light soil types.
Winter crops - late autumn sprays
Volunteer oilseed rape, along with some chickweed and groundsel was present in the plots at all sites and consequently herbicide has been applied. Taking into account the results from soil analysis, all appropriate winter cereal plots at Horningsea have been oversprayed with manganese.
Emergence of blackgrass has been reported as well underway in early sown crops, but slower in later sown crops. Control of blackgrass when plants are small is deemed important and with the current mild weather, every opportunity should be taken to apply herbicide as conditions are ideal for application.
Late sown wheat variety trials
For the third consecutive season, we have drilled a range of winter, spring and 'alternative' wheat varieties at Horningsea to simulate their performance as if sown after a root crop. All plots were sown into a dry seedbed with some cobbles on 2nd November and plots rolled down. Herbicide is to be applied as soon as conditions allow.
Winter oilseed rape
Plant growth and development has been more rapid than last autumn especially at Haywold and Cammeringham. At the beginning of November 2011, plants at both sites had 7-8 leaves. Leaf numbers at these sites were comparable to autumn 2009 and were markedly higher than early November 2010 when varieties had typically only 5-6 leaves. Plant appears 'lush' with tall canopies especially at Cammeringham where plots were sown on 23rd August.
Plant growth and development has not been so rapid at Horningsea, probably as a result of the drier conditions; plants typically had 6-7 leaves on 2nd November.
Incidence of phoma has been very low this autumn; the first visible signs of the disease have only just become apparent (and disease levels are still very low). Despite low disease pressure, fungicide has been applied at all three centres as results from specific trials in earlier seasons have shown yield benefits from autumn fungicide application.
Although phoma levels have been low, there are reports of powdery mildew in winter rape crops. Growers should check unsprayed crops of winter rape for phoma and fungicide should be applied if the threshold of 10% of plants affected has been reached. There is no threshold for powdery mildew.
Even if disease is not visible, we are approaching the timing for light leaf spot treatment and where growers are intending to apply eg graminicide/trace elements/insecticide, it is advised to also include a fungicide.
Trace elements as 'straights', or as a proprietary mixture have been applied at all three trials centres.
Volunteer cereals have been controlled by graminicide at all three sites.