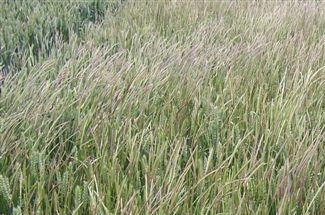 Farmers are urged not to be tempted by the prospect of short term cost savings at the risk of long term damage to our crop protection armoury.
We all need to follow the label, apply correct dosage and maintain good stewardship of Atlantis, if we are to maintain its place in our crop protection strategy, says Brian Ross, an agronomist with Frontier.
Frontier's technical agronomy team is advising farmers to consider carefully the potential implications of reducing application rates of Atlantis, a vital tool in the ongoing battle against blackgrass.
While cutting dose rates may save money in the short term, the long term implications could be a rapid increase in resistance - potentially much more costly and are also irreversible.
"We are hearing reports from growers who are reducing application rates for Atlantis. Most worrying, in some cases, they have even been given advice to do this," says Mr Ross.
Herbicide resistant blackgrass had been a problem since the early 1980s and the development of Atlantis to tackle it was a 'revolution' for advisors and growers alike. However, resistance quickly became apparent. Both enhanced metabolism resistance and target site resistance to Atlantis is now evident in blackgrass.
The risk of increasing selection for resistant blackgrass is greatest when Atlantis is used as a stand-alone treatment without the use of a robust (flufenacet based) pre-emergence treatment, and where best practice guidance is ignored, i.e. dosage is reduced.
Mr Ross adds "With no significant developments for control in the pipeline, stewardship of Atlantis is essential to maintain its efficacy for as long as possible. This requires an integrated approach, employing rotational ploughing, delayed drilling and rotational control opportunities and keeping to the recommended rates."
"The problem with reduced dose rates is that product will be metabolised (broken down) more easily by the weed than at the full label rate, consequently increasing selection for resistant blackgrass in the future. There are of course other factors that contribute to a reduction in a product's effectiveness over time, such as natural selection, but application rates could certainly lead to Atlantis' demise at increased speed if we are not careful. And, unlike natural selection, it is something we do have control over."
There are strict rules preventing over application of product but none relating to under application. However, to maintain a robust crop protection strategy it is important to follow guidelines. "Dosage guidelines are given for very good reason. The thing is, while we might be able to operate at reduced rates for a year, or maybe even several years eventually it will catch up with us all and there will be a price to pay," says Mr Ross.
"Atlantis is a product that we all rely on. Losing it would present us with a significant challenge and at the moment we would not have a clear solution - let's do all we can to protect Atlantis for as long as we can."
Frontier advises following the guidelines, using Atlantis within best practice and never reducing the recommended application rate.
Always follow the label guidelines for Atlantis and as a reminder best practice involves:
Targeting small, actively growing weeds, typically in the autumn.
Always apply Atlantis at full rate, with the use of Biopower at 1.0l/ha
Apply to a dry leaf, ensuring sufficient following dry time (at least 2 hours)
Apply in a fine-medium spray in 1-200L/ha water, with forward speeds of not greater than 12kph.
Growers in any doubt about blackgrass strategy should contact their local Frontier agronomist. Request a call back from our agronomy team.