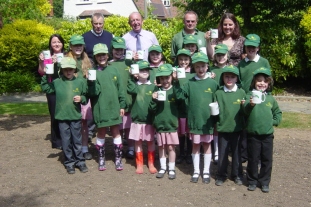 A primary school gardening club has used seeds supplied by Nomix Enviro to create a wild flower display in an open space near to the school.

The children, from Frinton-on-Sea Primary School, had great fun preparing the ground and sowing the seeds at Crescent Gardens, a colourful and tranquil public space, by the esplanade. Crescent Gardens already holds a Green Flag, which is a national award recognising high standards in parks and public spaces. The resulting wild flower area looks fantastic and should increase biodiversity in the area.

The seed planted by the children was Nomix's Cornfield Annuals Mix. This popular mix contains common poppy, corn chamomile, corn marigold, corn cockle, cornflower and scentless mayweed. The mix is quick to establish and as the species included are native to the UK, they are reliable, delivering a striking display of colour.

Trevor Mills, Horticultural and Transport Services Manager for Tendring District Council, who is responsible for the upkeep of Crescent Gardens, commented: "The Cornfield Annuals mix was sown in early May and is already in flower. Crescent Garden is a Green Flag site for Tendring District Council, as well as being part of Frinton in Bloom's portfolio. Frinton-on-Sea Primary School's gardening club helped to sow the seeds and assist in maintaining the site. The wild flowers fit with their project to reduce pesticide use and enhance the environment."

Nomix offers a comprehensive range of wild flowers and grass seeds. The range has been specifically developed for the amenity sector, in conjunction with Nomix's sister company, Kings Game Cover and Conservation Crops. Once established, wild flowers require minimal attention, so the frequency of routine maintenance such as herbicide applications and grass cutting can be reduced, saving time and money.
Full technical support is available from the team of BASIS qualified Nomix advisors and the expert team at Kings. Both Kings and Nomix are divisions of Frontier Agriculture.

For further information, please call the Nomix Technical Helpline on 01264 388056 or visit www.nomix.co.uk.