Increasing demand for conservation advice as Kings strengthens its technical team with two promotions

Kings Game Cover and Conservation Crops has announced the appointment of Oliver Yiend as South of England Technical Advisor. Oliver completes the company's newly enhanced advisory team and has been promoted to this new role from another division of Frontier Agriculture, Nomix Enviro.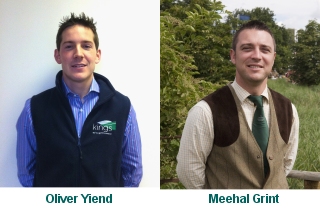 In addition, Meehal Grint has been appointed to the role of Northern Technical Advisor. Meehal previously worked for Kings as Sales Advisor. These new positions have been created in response to the significantly increased demand for high quality technical advice relating to farmland conservation and environmental stewardship.

Both Oliver and Meehal were recruited and subsequently promoted through Frontier's internal graduate training and development programme and have a keen interest in game and countryside management. Working with landowners, game managers and those involved in farmland conservation they will provide technical advice and support, encouraging land managers to get involved with conservation by promoting the benefits.

Richard Barnes, Manager for Kings Game Cover and Conservation Crops, said: 'We expect Oliver and Meehal to be very busy in the coming months and years. Integrating farm management with sporting interests and stewardship schemes are factors currently influencing farmers and land owners to find out more. Although the rewards for getting involved in conservation can be high both in terms of financial returns and providing habitat benefits to the shoot, the complexities surrounding many of these issues mean it can be quite daunting. That's why providing expert advice as well as supplying the correct, high quality product is essential.

'Initiatives such as those put in place by the Campaign for the Farmed Environment (CFE) encourage the use of land to stimulate farmland wildlife and consequently conservation and game cover crops are sectors where we are seeing rapid growth. These new appointments ensure that we can help guide and advise our customers on how to get involved and benefit' Richard concluded.

For further details see www.kingscrops.co.uk or call Kings on 0800 587 9797.