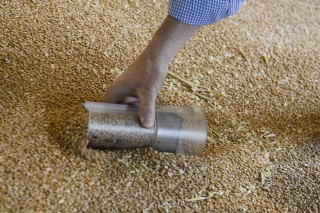 Analysis is essential to modern farming. But what are the benefits of broadening your assessment? For me, it's all about pushing for more yield and higher quality year on year and using the benefit of experience to do better.

"We're on a journey". That's what I say to my crop production customers when they see me take yet another set of tissue samples from the same fields that we started tissue testing over five years ago.

Over the years, I've formed a true partnership approach with my customers when it comes to crop nutrition. In the early days, soil analysis consisted of only measuring the most basic components: pH, phosphorous, potassium and magnesium. In addition, tissue analysis was taken sporadically here and there throughout the season.

Today, we work on the basis of a broad-spectrum soil health analysis, which measures the whole suite of macro and micronutrients. Furthermore, tissue sampling is now a routine process, scheduled in regular instalments on key barometer fields; once in the autumn and then two to three times in the spring ahead of key fungicide timings.

Why the change? Why the extra scrutiny? It's because assessing soil health in depth this way is the best way to ensure the crop thrives at harvest. Making soil health analysis part of my customers' annual routine is also how we benchmark our progress and make sure we're pushing for the best possible yield year on year. The results of this analysis are used to adjust and tailor our macro and micronutrient strategy to meet the needs of the crop as we move forward – it's part of the journey.

As we become more diligent with our assessment and more precise with our planning, growers can reduce their costs and see better results come harvest – that's my ultimate aim. This year, instead of waiting to sample the heaps after harvesting, my customers won't be surprised when I ask them to take thorough grain samples from these barometer fields as the grain comes into store.
Analysing grain straight from the field not only provides a great insight into the quality range of the grain for marketing purposes but will also be used to measure the nutrient content to assess the success of our nutrition programme. It's another tool in our arsenal to push for best results next season.

As we've gone from basic soil health analysis to a broad-spectrum assessment, the same is true in our grain analysis. Analysing our grain across a broad spectrum of criteria means we can see what levels of nutrients have been taken up and utilised by the crop. Looking at these results is how we determine what's working and what isn't and where to focus our efforts as we prepare for the following year.

Our programme includes an analysis of the following micronutrients for cereal crops and wheat:
Every year we are faced with new variables such as unpredictable weather conditions and even changes in our own farming practise. New biostimulants and trace element formulations hit the market and every year, things are slightly different. However, our goal is always the same: to get the healthiest crop with the highest yield possible.
With so much to take into consideration each year, in depth observations are becoming more and more important. Our expert team at Frontier is uniquely placed to support growers in collecting and interpreting their farm data and knowing what the results mean for farm management.
You can find out more about Frontier's soil analysis services by taking a look at our Soil Life page. If you need instructions on how to take a grain sample, take a look at our grain sampling page, which includes guidance videos and Frontier's grain sampling instructions. In addition, we've launched a new grain nutrient analysis service with an increased level of detail and interpretation. To find out more, please speak to your local Frontier contact.
If you need any other information or advice on any of the topics covered in this blog, please get in touch.
---