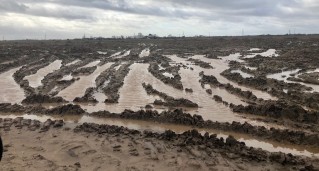 It is impossible to talk about anything without first addressing coronavirus and the impact it is having. The growing season has already proven difficult, but we are now faced with a new challenge unlike any that we've seen before. Reducing the risk to our customers and team members is paramount and, as a result, Kings is adopting new ways of working to ensure we are still able to provide support and technical guidance to growers across the UK. It's a strange period for all of us but, as our industry does so well in times of difficulty, I'm sure we'll all pull together to get through it.
In amongst the air of uncertainty and concern, one recent development that has certainly lifted spirits is the appearance of some sunshine! It's been a while, hasn't it? I know we're all very happy to see it; it's been difficult to grasp any silver linings from the relentless clouds and rain that greeted us for so long. Now though, particularly from a game management perspective, there may well be a window of opportunity opening up.
Although the sun is out (as I write this anyway) I recognise that many areas of land are still plenty wet enough, and getting jobs done is tricky enough without getting covered in mud as soon as you hit a waterlogged bit of ground. That said, the upside is that many growers will be reviewing cropping plans on almost a weekly basis to ensure they are reflective of current conditions. With potentially 50% of the UK winter wheat crop sown there remains, subject to your area, a significant proportion of land yet to be planted. Spring crop opportunities remain unpredictable so, if some bare land is looking a likely scenario for the farm on which you work, you may want to think about the opportunities associated with it.

"What's that?!" I hear you ask, "Opportunities for bare land?"
In terms of game management, yes. Think back to previous years when you may have asked the landowner for a new game cover area, an extension, or even a shift across the field. It would involve some extensive planning, often without the guarantee of anything actually going ahead depending on the season. However, this year, things could be very different.
Well, first off, there may be a few areas that would make a significant difference; livening up existing drives or helping brand new drives come to life. It will be beneficial for you to make a plan and, even more so, adopt some digital tech to help you!
By utilising software such as SOYL's iSOYL app – available from the Apple App Store – you can measure land areas by shape and edit them to suit. If you don't like the plot size, or you want to experiment with other areas, you can do all that with a few 'dropped pins' and a pinch of the screen. Plots can be colour coded and labelled, and you can attach images taken in situ or from your own archives.
The technology doesn't stop there either; all of this information can be linked to MySOYL – available with a MyFarm account – so the farm manager, landowner or boss can have a look from the office. Having taken all of the guess work out and pulled together a strong proposal with the field insight to back you up, you can all make an informed decision about how best to take things forward in a way that works for the whole farm business.
Even greater traction may be made if you can ensure that the crops you choose are applicable for either the Ecological Focus Area fallow option or a wild bird seed mix within a stewardship agreement.
Your approach could be just what is needed
With the increased focus on natural capital and a rapidly shifting farming support system, your approach could be the example of smart land use that the landowner or farmer needs in current circumstances.
From our experience working with farms across the UK, at the moment land managers are looking at all options, both in the immediate and medium-term. So, take good advice and make the right decisions.