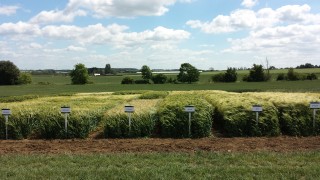 Earlier in the year, we hosted two meetings in the eastern region. With our 3D Thinking open days just around the corner and the opportunity to continue discussing some of the key topics raised, I thought it would be useful to look back at the information that was shared.
Over 110 growers attended both events, descending upon the very frosty Walsham-le-Willows and Colchester football clubs. Chaired by Andrew Melton, the region's agronomy manager, the events allowed visitors to hear industry updates, technical advice and key thoughts for the season from our expert speakers:
Andy Hartley, national trials manager
Paul Brown, Kings seed business development manager
Oliver Barker, project co-ordinator for crop production
Andrew Hill, grain origination team leader
Peter James, southern seed manager
Trial results
Looking back at spring barley performance in 2017, Andy Hartley explored how our tactics might be tweaked this year. Of course, it's worth remembering that every spring is different and I think we can safely say this one has been nothing like last!
He also introduced the work of the Staunton black-grass 3D demonstration site, where long-term rotational effects on black-grass populations are being monitored to see if the method is a suitable form of management. There will be the opportunity for growers in the east to visit and experience the results for themselves – please speak to your Frontier contact for more information.
Opportunities with EFA and Countryside Stewardship changes
With the recent changes to Ecological Focus Areas (EFAs) and the newly simplified offers to Country Stewardship, Paul Brown of Kings gave an informative overview and reassured growers of the great opportunities to secure a return for their farm business.
Key points raised around EFAs included the recent ban on all agrochemicals on EFA land, the fact that buffer strips can now be field margins, catch crops should be in place for an extended eight weeks and a line of trees can now be categorised as a hedge.
With Mid-Tier Countryside Stewardship, Paul also explained the 'simplified' offers, most notably the new arable option. For this, 3% of the area is needed and must include 1ha per 100ha of nectar flower mix or flower rich margins, 2ha per 100ha of winter bird food and at least one additional measure from a comprehensive list.
With compliant mixes, integrated offers, support with ongoing management and expert advice, Kings can help tailor the schemes to work for you and your farm – you can find out more at a local open day or contact the team.
Technological development
Oliver Barker outlined the imminent changes to farm management software, both within Frontier and the wider agricultural industry. As an example, Muddy Boots are moving to a web-based system, making communication via 'the cloud' with apps such as MyRecs much easier for farmers and agronomists. This is particularly important as the pressure for online record keeping increases in a bid to help improve the management of paperwork and supply chain transparency.
Regional advantages for growers
Andrew Hill spoke to growers about some of the most influencing factors on the market currently, one of which was (and continues to be) the weather, both here in the UK and abroad. However, the elephant in the room was of course the ongoing uncertainty around Brexit, where trade deals and currency fluctuations remain uncertain.
There was a lot to discuss around wheat varieties, particularly the increase in the region of Group 1 and Group 3. Andrew rightly stressed the need to grow varieties based on local requirements to ensure the best value market for farmers' grain commodities. Growers in our region are at a particular advantage, with local homes and export potential through Frontier's use of Tilbury docks in South Essex.
Planning ahead with varieties
In preparation for the coming autumn, Peter James gave an outline of erucic contamination in OSR samples and new grain varieties. Potential changes to the level of erucic acid in samples are on the horizon so it's important to be aware.
Management is key with this issue, as charlock/runch and hedge mustard will contribute to the problem, along with High Erucic Acid Rape (HEAR) volunteers.One of the easiest ways to combat these problems is though the use of the Clearfield oilseed rape system.
Looking ahead to new wheat varieties, one of interest was RGT Gravity – a Group 4 hard feed with the highest yield on the RL list. Elicit also looks extremely promising from both an agronomic and market perspective.It has a strong septoria rating compared to the other Group 3 varieties and is competitive on yield.
Influence of tyre pressure
In addition to the above Frontier speakers, Tom Saunders, Michelin agricultural account manager was also kind enough to share some interesting insight into the developments of tyre technology.
As well as tyre labelling and the limitations of older designs, Tom addressed the importance of managing tyre pressure to improve soil resilience and conditions in the field. Reducing your pressure can minimise soil damage and compaction significantly, while also helping to reduce fuel and lessen tyre wear-and-tear when travelling on the road.
Upcoming open days
Frontier's 3D Thinking programme continues this summer as we invite you to attend one of our local open days.
As well as more information on the above topics, the events will offer you the chance to hear the latest news in crop production and see our trials and demonstrations firsthand.
Local Frontier experts will be on site to talk you through the plots and offer advice on a range of topics including varieties, grain marketing, specialist crops, precision farming and factors currently impacting the agricultural industry.
Held in several locations across the country, you can find your local open day on the Frontier website and register your attendance online.