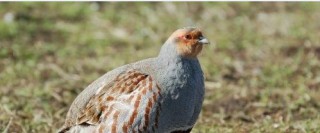 After a long and protracted harvest for many we are now seeing fields cleared leaving land and farm managers who have an interest in farmland wildlife with a hugely rewarding and valuable task to undertake... counting grey partridges!
The grey partridge is a key farmland bird indicator species and helps to show that your hard work in terms of habitat management through voluntary work or agri-environment schemes is paying off. Counting greys will give you a great measure of the general biodiversity of your land. The general consensus is that if grey partridges are doing well on your farm, then all other farmland wildlife will be thriving too.
The voluntary Game and Wildlife Conservation Trust's Grey Partridge Count Schemehas been running since 1933 and provides a unique insight to the fortunes of a bird species which evokes great passion and enthusiasm among those working to encourage and support them on farm. Once you've gathered information you can add it to this count.
OK, I have a few on the farm so what do I need to do?
Access the online form provided by the GWCT here and start to record what you see on your travels round the farm. Please be aware that by their very nature grey partridges can be aloof so be patient and try and build up a picture of what you see over a couple of weeks. Whilst you are on your travels you can also record broods of wild pheasants and French partridges which is a rewarding exercise in itself.
I haven't got time to spend ages counting - can I be bothered?
This is the beauty of the scheme – you don't need to spend hours and hours at it. The edge of dawn and dusk provide the perfect time to observe and count wild grey partridges. From our own experience of counting partridges at Kings the best plan is to keep a running record of sightings on a map and then you can soon narrow down fixed coveys and avoid double counting. Encourage all those who work on the farm to keep an eye out and report in what they see. Your gamekeeper, contractor, shepherd, stockman and spray operators are all extra pairs of eyes. It's great to get everyone on farm involved in measuring the fruits of their labour. Habitat crops often need just as much TLC as the farm crops and many of these people on the farm will have been involved in ensuring crop success.
​I used to find counting really easy - I know they are there but they seem to vanish. What's changed here?

Good farmland habitat consists of margins, blocks of wild bird seed, game crops and nectar flower plots all of which provide excellent cover for partridges to hide up in. The additional challenge for partridges is the increasing prevalence in many regions of kites, buzzards and ravens. These put pressure on birds who find the best method of survival is to keep their heads down and stay in the cover! This highlights the importance of having several pairs of human eyes looking for them on day to day travels as it builds up a more accurate picture.
OK, but I haven't seen a pair of greys on the farm for a couple of years surely that doesn't count?
The GWCT Partridge motto is 'Every One Counts'. Even if you haven't got any birds on the farm now the information is priceless to the Trust who can continue to develop their data set to support current agri-environment policy and develop future guidance. If they know you haven't got birds but your neighbour two farms away has that presents a great opportunity to work together to support future stocks.
I have completed my count and I am pleased with what I have seen. What can I do to look after them?
Winter dispersal is common with grey partridges; it's what they do! However, there are a few simple things you can do to look after them:
Retain as much cover over winter in the areas you see them as possible. This gives them overhead sanctuary from raptors and corvids.
Ensure there is food available for them from now until late spring. Stubbles are valuable but supplementary feeding or a few hoppers in key areas will look after them as natural food resources run out.
If you are shooting and only have the odd covey about make sure your guns are aware and briefed to not shoot them! If you find a covey in a drive try and let them out of the side so they don't have to run the gauntlet.
I am not sure if I want to do this Partridge Count but am keen to learn more - who can I contact?
The GWCT team have a This email address is being protected from spambots. You need JavaScript enabled to view it. where you can send in your queries or questions. Alternatively you contact the Kings team for further details and guidance on getting the best from your farm habitats.
Richard Barnes​
Kings sales manager
For specific advice for your business related to this blog get in touch with Kings.