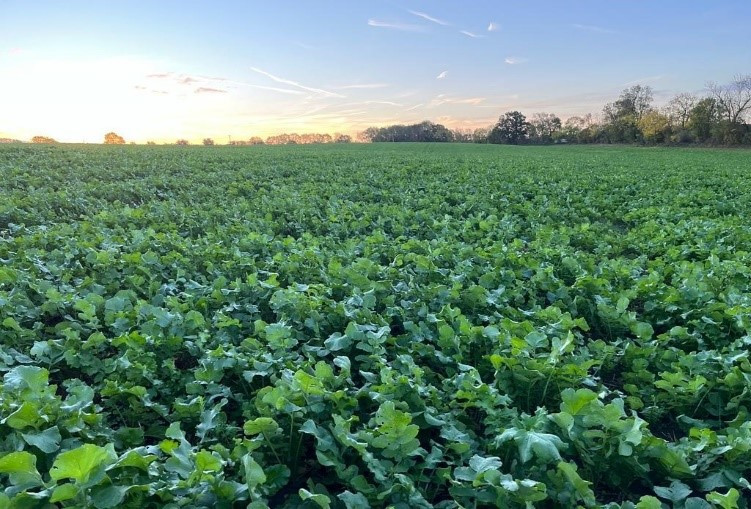 Cover cropping has become a common practice within arable rotations and as spoken about in previous blogs, this is due to the many benefits they can bring to soils. Given the current volatile fertiliser market, however, today there is much more interest in their ability to capture nutrients, particularly nitrogen. We mustn't forget the range of habitat they also provide for various insects and wildlife.
Leaving land either cultivated or fallow over the winter with little weed growth can lead to high levels of nitrate leaching. We've seen nitrate losses over winter measuring up to 130kg N per hectare in some scenarios. Retaining this through the use of a cover crop is therefore clearly beneficial on many fronts. Amazingly they can reduce the loss of nitrates to 0 when established early, but on average we see around a 60% reduction in nitrate leaching which is still significant.
A cover crop's ability to capture nutrients as it grows means they create important plant material. This is then returned into the soils following their destruction and as it begins to decompose, the nutrients are returned to the soil as organic matter.
Cover crops are also able to stabilise the soil and provide a literal cover from rainfall. This reduces soil surface 'capping', leading to the prevention of soil erosion and run-off both of sediment and nutrients.
The main driver for the amount of nitrogen uptake is the date which the cover crop is sown. Those sown in August have the greatest advantage as they can thrive off longer and warmer days, giving each plant the opportunity for rapid early growth and the chance to develop a well-established rooting system.
Cover crops are more likely to be effective during a wet and mild winter as opposed to dry and cold conditions. This is because drier conditions nitrate is less likely to move out of a plant rooting zone before the spring. The longer the cover crops are in the ground, the more nutrient they will capture.
Of course, a plant's rooting system is the key to soil structure. With cover crops the root structure can differ depending on the species chosen - this should be taken into account when assessing the soil. Typically, a mixture will include species with different types of rooting such as lateral, fibrous and taproot structures. A combination of these also means that different soil profiles can be targeted, which helps to alleviate compaction.
How to measure the value of your cover crop
There are several ways you can measure the performance of your cover crop: fresh weight cut downs, worm counts and visual evaluation of soil structure (VESS) scoring.
Fresh weight cut down
A fresh weight cut down involves collecting a m2 sample of biomass from a representative area within the field and sending it away for analysis. From the results you can understand the amount of N, P & K that has been captured within the plant material and what is being returned into the soil.
This year, fresh weight cut down results have shown a wide variation of nutrients being captured - ranging between 30kg - 200kg N per hectare. The factors which can cause such broad outcomes include drilling date, cover crop species, soil type and previous cropping.
VESS score
A VESS score is the evaluation of the soil's structure and is done by removing a small square of soil from the ground to assess the different profiles. It is given a score between one and five - one being a 'friable soil' and five being 'very compact'.
It is a good idea to assess your soil before a cover crop is used so you can see the difference within the profiles pre- and post-cover crop.
Worm counts
Worm counts are an easy way of assessing the soil's health. You can do this with a 'standard spade' – simply dig a spit of soil about the size of 20cm³ and break it apart carefully to count the amount of worms present.
The Agriculture and Horticulture Development Board (AHDB) provide some great guidance on how you can assess different worm populations and numbers of worms to indicate whether the number is higher or lower. Be aware though that worm numbers will be less when it is very dry or if it has recently been very cold.
Hopefully after reading this blog you now have a greater understanding of the benefits cover crops can bring to your farm, particularly if they are something you have not previously used. Not only do they capture nutrients, but they also provide your soil with valuable protection, improving soil health and creating a home for beneficial insects and wildlife.

Measuring the impact they make on your farm can be done quite easily with the methods mentioned above too. If you have them but haven't evaluated the hard work they are doing in your soils just yet, why not grab your spade today and get digging?

If you have questions about the effective use of cover crops and techniques to measure their success, speak to your local Kings advisor or get in touch.
---