Frontier has confirmed that this year's Cereals event will be used to unveil a number of recent technological developments to its farmer customers. Frontier will construct a 'Technology Lounge' within its usual marquee where growers will have the opportunity to view some exciting initiatives which are being launched by the company later this year.
Sharon Kennett, head of marketing for Frontier, explains that the whole ethos behind the development of new technology has been to provide farmers with improved access to information and services across a variety of platforms, whenever and wherever they need it. "We're fundamentally a people business and our success relies on our customers' ability to draw on our team's expertise through whatever their medium of choice. Traditionally that has been either through farm visits, over the phone or via email. But the world is changing and farmers are embracing new technology. It's important that we develop online solutions to meet their needs."
The developments include:
Frontier MyFarm
At the centre of the initiatives being launched this summer is Frontier's new web based business management tool for growers, Frontier MyFarm. This new online facility will enable farmers to manage their whole business from one source, using a single log on.
Although online management tools have been available elsewhere, they have been fragmented, with little or no connectivity or compatibility with each other and often limited the grower to one manufacturer's product. Frontier's aim was to introduce a hub for agronomy services that is auditable, with full traceability for end consumers and the connectivity to utilise data from multiple sources.
The first phase of the system goes live this summer and will feature:
A web based mapping tool which can be updated manually
Full access to variable rate online maps (for SOYL customers)
Gross margin calculator - To create and compare one or more crop scenarios and linked to the mapping tool
Crop record keeper - An online solution, recording all aspects of the crop production cycle
Nutrient planner - To generate a farm's nutrient requirement for N, P and K
A search engine with access to technical documents in Frontier's agronomy library
Access to personal Frontier account information and contracts via the itrac system
Futures and market information
Weather information.
Online booking facility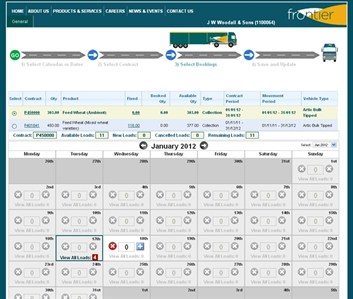 The launch of a new online booking system for members of the Humber Gold wheat club will give farmers a greater degree of control when managing their own grain collections and deliveries.
Vivergo is a new bioethanol plant in Hull and Frontier has the exclusive contract to supply wheat to the facility. Humber Gold is a club created by Frontier to incentivise farmers to supply that grain.
The online booking system will be accessed via Frontier MyFarm and will allow growers to match contracts against specific dates for delivery to Vivergo, sometimes several months in advance.
The new plant, taking 1.1 million tonnes of wheat a year once fully operational, means that Frontier has the capacity necessary to support the introduction of an online booking service. Farmers will be able to log on at their convenience, day or night, and choose the delivery date that is best for their business.
Carbon Calculator
One of the initiatives developed by Frontier is a carbon calculator tool for farmers who are members of its Humber Gold wheat club. Accessed via Frontier MyFarm, this simple online tool is used to collect and evaluate carbon information. The calculator has been independently audited and complies with the requirements of a range of end markets.
There will be dual benefits for farmers who use the calculator. Firstly growers will be able to benchmark their carbon performance against their peers and industry averages. Secondly they will be better prepared to captialise on opportunities in emerging markets, where carbon data collection is desirable.
Growers will enter details relating to four areas of information about their crop to find out their carbon score for production: nitrogen type, nitrogen amount, yield and moisture content.
The carbon calculator will help our farmers comply with legislation and stay in the market ready to capitalise on emerging opportunities. They will also improve efficiency through benchmarking and better management of inputs and precision farming techniques.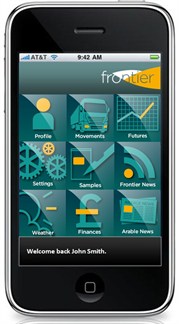 The Frontier App
The Frontier app will be suitable for smartphone and touchscreen devices and will offer a host of useful information and features for growers.
Through the app, growers will be able to access everything from market data and arable news, through to their own Frontier account information and agronomic weather updates. Frontier believes that this combination of information will make our app stand out against those competitors have to offer.
Planned features include:
Frontier account information - Farmers will be able to access their account information. Details about planned movements, grain sample results, invoices and account balances and contact details for their local Frontier team will all be available via the app.
Market information - Market data and futures including 15-minute delayed London, Paris and Chicago futures prices.
News feeds - Agricultural arable news feed, and Frontier news feed. Frontier can also tailor news items to specific groups of customers. For example news can be filtered and prioritised where appropriate so that it appears on the feed of customers in a specific region or that belong to a particular group such as Manchester Gold or Humber Gold.
Weather - The app will display GPS specific agricultural weather information. This will include soil moisture, temperature and humidity index as well as wind speed and direction.
Once launched, Frontier will continue to evolve the app in response to feedback from customers.
Frontier will be at Cereals on Stand J1011 on 13th and 14th June 2012 - call in to see a demonstration of these technologies.
For media interviews call Debbie Mather, PR Manager on 07799 861708 or email This email address is being protected from spambots. You need JavaScript enabled to view it.