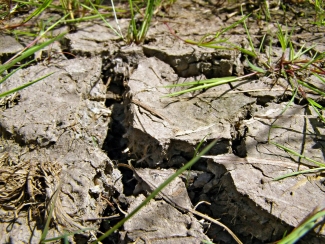 Frontier Agriculture's technical team is carrying out pioneering work at the company's Lincolnshire farmer demonstration site to investigate how farmers can better manage crops during drought conditions.
News of Frontier's project comes as the BBC reports that for areas, such as the Midlands, the year up to October was the driest 12 months since records began in 1910. The Environment Agency and The Centre for Ecology and Hydrology indicated in October that farmers may well be short of water again next year.
It's therefore likely that growers will be interested to follow Frontier's work closely over the coming season.
David Robinson, Technical Manager for Frontier, explains: "Whatever your view on climate change and its relation to our weather pattern, it is a fact that we are seeing more frequent spells of dry weather than we have in the past and some say that this is set to continue. We need to help farmers find ways to cope when this happens. The work at Riseholme will help us find ways to mitigate the effects of drought conditions in wheat."
The 'drought mitigation' trial that is taking place on site, in partnership with University of Lincoln, will help Frontier understand the consequences of prolonged dry spells. Importantly, it could help establish new ways to improve a crop's performance during such circumstances.
Two wheat varieties have been sown:
Non-hybrid, Oakley
Hybrid, Hystar
Protocols in place will restrict the amount of water the crops receive, no matter what the weather this winter and spring. Mr Robinson says: "If it does happen that we have wetter weather next year, we will cover and protect the crop from this using a cloche. In this way we can mimic a period of dry weather if necessary."
The team will be applying and assessing a number of specially selected treatments to identify those which offer relief to a crop suffering from drought.
This research is among the first of its kind and the results will be especially of interest to many farmers who have drought sensitive soils.