Today sees the launch of the Humber Gold club by Frontier Agriculture, which will link farmers into the supply of the new Vivergo bioethanol plant near Hull.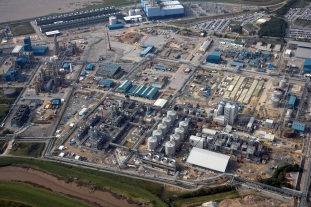 The plant goes into production next year and will require 1.1 million tonnes of wheat annually. Frontier has secured the exclusive contract to supply the site and the Humber Gold club is the linchpin of the company's strategy to guarantee wheat for production. This presents farmers in the regions surrounding the plant with a major opportunity to benefit by teaming up with Frontier to market their wheat.
Mike Ayers, Humber Gold club manager says: 'We have a huge new facility about to open on our doorstep and it's going to need a constant supply of wheat, all year round. Traditionally the region's farmers have been delighted when a cargo ship arrives in Hull to take wheat aboard, but it's only an intermittent event. The Vivergo plant's requirements will be the equivalent of having a wheat-hungry vessel permanently available to them, and right on their doorstep too!'
As well as the stability that this offers for farmers, the Humber Gold club will deliver a raft of farmer benefits.
'We have a sound customer base already and many of them have already been in touch asking how they can sign up, and that's before we have carried out any promotion for the club' adds Mike. 'The benefits that are on offer mean farmers who perhaps haven't traded with Frontier before will be tempted to now.'
To be eligible to join the Humber Gold club farmers must commit to supply Frontier with a minimum of just 120 tonnes of wheat through the Club (four lorry-loads). In return these are just some of the benefits they will gain:
More flexibility on moisture content levels - Members are given priority on wheat accepted by the plant at up to 17 % moisture content. Ensuring grain is at the specified moisture level for the end consumer and the costs that are associated with achieving that can present farmers with a huge challenge, not to mention the worry of having their delivery turned away at its destination. Being a member of Humber Gold helps remove that worry.
Batch loading within 30 miles - This will allow farmers to better plan their business, as any club member within a 30 mile radius of the plant will be able to arrange collection of their grain to suit their needs. If that means collecting 10 lorry-loads of grain at once, Frontier will do so. The plant also has flexible and lengthy opening hours.
Attractive terms for supply - Including priced, un-priced and pool contracts with preferential payment terms of 21 days and in some cases farmers can qualify to be paid within just 7 days.
Load analysis by text/online -Just 30 minutes after a load of grain has been tipped at the plant, farmers will be able to obtain a full breakdown of weight, moisture content and quality.
Average moisture contracts -For larger contracts Frontier will assess the average moisture and provided it is within the tolerance of 14-15.5%, all will be accepted, reducing the number of claims on a farmer's account.
Carbon scoring -Humber Gold farmers will be able to evaluate the carbon score of their crop production and use the results to drive a reduction in their environmental impact.
Local farmer, Chris Redfearn of Warter Priory Farms, Pocklington, Yorkshire says: 'Virtually all the wheat we grow is of a variety suitable for the new Vivergo plant and we're excited about its opening. It will be a local market for us and it's going to have a massive impact on this region. It's good to have such a major consumer so near to the farm because our haulage costs will be reduced and the flexible opening hours for delivery will help. There's really nothing better for a farmer than seeing three or four lorries lined up, waiting to be loaded with your grain.'
Frontier Agriculture has significant experience of operating incentive driven customer clubs in order to secure grain for a large end consumer. In 2007 Frontier launched the Manchester Gold wheat club, to secure supply of 750,000 tonnes of wheat for the Cargill starch plant near Manchester. Mike Ayers also manages Manchester Gold: 'The club has been a huge success and is extremely popular with farmers. They get added value from being in the club and one other benefit is that they really like to see firsthand where their wheat is going. We've organised plant visits for our Manchester Gold club members which have been extremely popular and I am quite sure that we'll probably see the same feel-good factor when farmers start supplying wheat to Vivergo. We certainly plan to take our club members there too.'
The launch of the Humber Gold club is a landmark event that will change the shape of the UK grain market forever and farmers need to ensure they find out how to benefit.