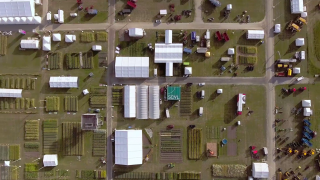 I think we'd all agree that this summer has been an eventful one. One of the most memorable things for me – other than the weather – was my trip out to Borgeby Fältdagar.
Held in Southern Sweden and attracting around 20,000 visitors, the event has been around since 1999 and is a mixed showcase of industry experts, leading agricultural companies, machine demonstrations and seminars.
I attended Borgeby Fältdagar (or Boregeby Field Day as it is otherwise known) alongside our Swedish partner, SOYLSverige. The company has been established for just over two years now and offers our precision crop production services to growers across the whole of Sweden.
Talking precision
Each year the show has a theme and for 2018 it was precision agriculture, with SOYL attending as one of the key exhibitors.
Talking to Swedish farmers, at the time they – like UK growers – were getting ready for an early harvest following an eight-week drought. While some shared concerns about the low yields they were expecting as a result, many were trying to take a long-term view of the farm, using the event as an opportunity to discuss strategies and ideas.

Conversations covered everything from ways to help control costs to increasing yields and maximising margins, so there was plenty to discuss on the SOYL stand. Soil health was especially topical and so our variable depth cultivation system demonstration proved very popular.

Variable depth cultivation
Cultivating at a universal depth across your land can compromise fields with variable soil types, causing problems further down the line. For example, if not cultivated appropriately clay soils can be 'smeared', resulting in compacted layers that are then detrimental to crop establishment and the uptake of vital nutrients.
At the event, we displayed our Autodepth controller. Designed and developed alongside Cultivating Solutions, it drew a considerable amount of interest from growers keen to understand the benefits. The controller uses precision technology to automatically adjust the height of the roller to suit the soil type it's working with, which not only improves weed control and soil structure, but also helps to optimise fuel consumption and increase the average work rate.
Yield data and MySOYL
As well as our demonstration, we also ran four seminars across the two-day event focussed on the importance of utilising field data and loading this into MySOYL. Collecting yield data is important, but using it to monitor crop performance and adjust inputs is even more crucial. This is all about increasing margins wherever possible, whether this is across the whole field or – more likely – across certain areas of fields.
MySOYL allows growers a place to safely store yield data and compare it against several other precision reports. If there is a correlation between yield data and soil type maps, we can adjust seed rate maps to reflect this. For customers using MySOYL, some of the long term advantages include the range of analysing tools available, safe data storage and the ability to compare multiple layers of data all in one place.
Better economic, agronomic and environmental performance
Overall, the event was really insightful; it was great to meet so many Swedish growers and better understand the challenges they face – most of which are not dissimilar to our own. It was clear to see that precision farming could bring some huge benefits and it's great to know that our technology can help to support even more farmers for the future.
If you would like more information on our variable depth cultivation system or would like to better understand how to make the most of your precision data, you can email our team at This email address is being protected from spambots. You need JavaScript enabled to view it. or call us on 01635 204190.