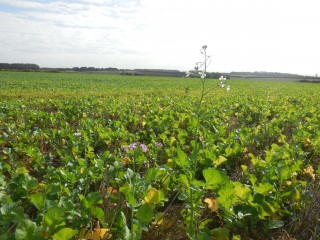 ​This blog was first featured as an article in the September issue of Three Counties Farmer

What a difference a day makes. It's a lovely song by Dinah Washington, originally written in Spanish by Maria Grever. It's been covered by many artists over the years and no doubt murdered on the X Factor in more recent times.
Having been lucky enough to travel to France and Belgium recently it still amazes me that, no matter how short the trip, the countryside always seems to have altered on your return. I left for France one day and returned six days later to witness the entire countryside in full harvest. Soaring temperatures welcomed one of the earliest harvests for many years, with many of us experiencing ground conditions not witnessed since '76.
What can an arable farmer or livestock producer do to mitigate such variances in temperature and conditions that hamper forage production and subsequent plantings? The answer is, not a lot.
However, as an industry we can help ourselves by integrating our livestock and arable sectors in times of fodder shortages; times such as those in the summer and autumn of 2012 which saw thousands of acres go unplanted until the spring.
I sometimes dream of creating a land-swap system. Arable farmers could grow forage on tired, worn-out arable land while pastoral-based farmers could give their land a break by letting someone use it to grow an arable crop. It sounds too simplistic, I know, but I'm convinced of its merit.
In an area like the Three Counties, we are blessed with our diverse farming businesses and in my area of the industry, we talk to lots of farmers involved in arable, livestock, fruit and poultry on a daily basis.
We are often introduced to our rural network of funding, meetings, breakfast bun fights and plenty of people who will get you a grant for a slow cooker if needed. But what about getting down to the core of our industry and actually helping each other maintain profitable businesses and breathe new life into others? It doesn't need to involve a bus load of consultants either. Some common sense and like-minded souls would inject energy where it was needed.
There is talk of forage crises throughout the UK and some arable farmers looking for more break crops and ways to improve soil structure and soil health. There has to be a marriage here; a chance to reconnect each facet of our industry.
At Kings, we are offering daily advice on green cover mixes, forage grasses and catch crops as we enter the autumn period. Many growers are selecting oil radish-based mixes for their EFA requirements but this doesn't have to become a burden on the business with a cross compliance shackle around its neck. Look to plant these mixes with diversity in mind. While a successfully established cover crop brings a wealth of agronomic benefits to the soil, sharing its nutritional value with a sheep grazier brings economic benefits too.
Charles Townshend, commonly known as 'Turnip Townshend', advocated the Norfolk four-course rotation in the eighteenth century. Introducing a system of spring barley, turnips, clover and wheat, he recognised the benefit of rotation and sheep grazing. If he were alive today, would he be wondering about the difference a day made? Or would he be musing over the fact that his fundamentals still stand today, two centuries on?