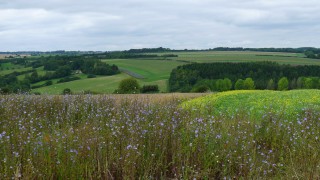 This blog was first featured as an article in the November issue of Three Counties Farmer:
The sun has continued to shine. As I write, the weather forecast shows a considerable rain event over the coming weekend preceding another settled spell.
Autumn drilling and harvest continues but, with my growers at least, there isn't an air of complacency at all. We all know that at this time of year things can change quickly, so it's full steam ahead to secure 100% autumn establishment. I remember not that long ago that when harvesting potatoes and lupins and cutting forage maize, you didn't have to search the radio airwaves for too long to hear a Christmas song or two!
The knack is in the balance of timely establishment and harvest, mixed in with a couple of ounces of risk and half a cup of luck. While all the travails of the autumn workload continue, the greater picture of agricultural policy keeps growing. The latest update to land in our inbox and the farming press is the proposed Agriculture Bill, positioning the industry in 'green Brexit mode'. Needless to say, many felt the paper shifted responsibility to growers, packers and primary producers to show the way in terms of how we produce, present and market our products post-Brexit. How will we do that?
​The shift appears to be more of a stick than carrot approach to subsidy. Environmental schemes stand out as the main prong for how we underpin our businesses. Certain buyer protocols already demand a base of environmental, stewardship and welfare standards – more notably for the higher end supermarkets. Standards like these are changing quickly; they will develop overall and likely become all encompassing.
The consumers we produce for expect (and to a lesser degree demand) a standard of food production that, in their own minds and often subconsciously, lets them consume products in a guilt-free space. They want to be confident that the primary producer of the raw ingredient will present them with a product which is safe and has been produced in a 'green manner', and that production has been carried out at a cost that doesn't impact on the price of a basket of goods.
It seems that, whichever political side of the fence you may favour, the overall outlook is for an agricultural future that is green. The government has outlined its plans and it's up to us to embrace its merits, whatever type of production we choose. It appears that stewardship schemes of a basic nature are still open for applications over the next 12 months, seemingly securing funding for the next five years regardless of what Brexit may bring.
At Kings, we are continually looking at the changes to strategy and what implications they may have on any agribusiness. Integrating modern farm practice with a green bias is something we are planning for and expect to form part of your farming business going forward. The Agriculture Bill lays out its expectations for the next ten years and, as part of our commitment to helping our growers, we are looking into every way that these new policies can be integrated into the modern farming business.
Let's look at the opportunities that will arise and turn the green Brexit into a profitable Brexit.