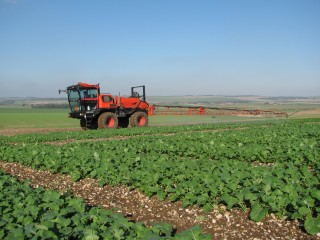 Boron is a key nutrient for oilseed rape, with its main functions associated with aiding stem elongation and flowering. While these developments will happen later next spring, it is important to start addressing some of this need now before the crop enters winter.
The last thing we want is OSR coming out of the colder months with a deficiency because the effects can be really severe, as shown in the photo. While it may be one of the more extreme cases, it can happen and is a risk not worth taking.
The amount of plant-available boron in soil varies across the country and is also affected by pH.The more alkaline the soil, the less available boron there is to the plant. This makes it a crucial nutrient for high pH soils and any fields that have recently had lime applied.
Importantly, boron can also be leached out of soil and after the unpredictable weather we've had so far this year, we can't be too careful. If we experience a wet winter, this will severely increase the risk of deficiency.
How and when should you apply boron?
Across three years of trial work at Frontier, we have seen very positive results from applying boron throughout the season. A summary of the findings is shown in the graph below:
The plots in these trials received either no boron or rates increasing from 300g to 1200g over the season.
Interestingly, the trials were carried out on a site that had reasonable levels of boron in the soil. However, the additional applications still proved very beneficial, making them even more crucial for areas with already-low boron levels.
On average, applications of 600g/ha over the season provided a yield increase of 0.36t/at this trial site.
It's important to combine autumn and spring foliar applications to deliver sufficient boron to the plant. With autumn applications timely now, I'd recommend that approximately one-third is applied at the 4-8 true leaf stage before winter shut down and then two-thirds at stem extension in the spring.
Of course, the final rates and splits will very much depend on your individual circumstances – you should always take into account factors such as soil boron levels, crop need and soil pH along with work load and ground conditions.
Whatever the situation, we simply cannot argue the significance of boron in OSR enough. While some growers have crops already thriving, others have endured a challenging time with establishment.In either situation, don't miss the opportunity to give your crops the best possible chance.