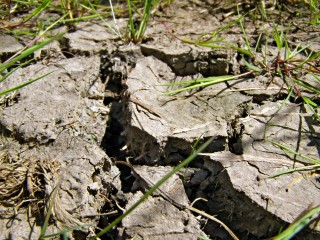 This blog was first featured as an article in the August issue of Three Counties Farmer
In the Three Counties we experienced an extremely dry run up to harvest, which quickly turned our crops and accelerated their final stages. However, compare these UK extremes to the likes of Australia and it quickly put things into perspective. They have suffered a prolonged dry period since April and this has had a detrimental effect on their winter crops, due to be harvested from October.
Australia, being the largest county in Oceania, is the sixth largest in the world by total area. Alongside agriculture, mining is one of its biggest industries. Surprisingly though, more land is actually covered by pubs than mines. Evidently it must be thirsty work being in Australia but, as the driest of any continent other than Antarctica, that's probably not surprising.
Agriculture accounts for 15% of Australia's Gross Domestic Product (GDP). Farmland covers 61% of Australia's land mass and they are a major exporter of wheat and oilseed rape. The majority of their winter arable crops are planted in Western and Southern Australia, along with Victoria and New South Wales.
Between 6th April and 5th June, only 13mm of rainfall was recorded on the continent – merely 27% of the expected rainfall for this period in Western Australia. Not only did this delay planting but also shortened the development stage of the crops, reducing yield.
Dry weather had already impacted US and Black Sea crops. Australian farmers reacted to this prolonged dry period, plus increased demand from China, by planting a record barley crop. This was also a reaction to the narrowing in price between feed and malting barley – Australia historically has an enviable reputation for reliably producing high quality barley.
From a global perspective, Australia holds over 30% of the world's malting barley trade and approximately 20% feed barley. Globally, barley production costs stayed relatively on par with 2017, however, the UK saw a later sown spring barley this year which led to a degree of pre-harvest uncertainty over the malting quality.
Demand for barley in the UK is forecast to increase, driven by a rise in production across the board from maltsters, brewers and distillers, alongside increased demand from the livestock sector. Ex-farm feed barley prices have seen a rise throughout 2017/18. Overall, the feed barley market looks balanced; potentially tight and bullish as we look ahead through 2018.
Producing the right type of malting barley still offers a strong market opportunity. However, it is crucial to get the correct nitrogen levels and grow the varieties local buyers want, with attractive premiums available if the quality is there.
Compared to Australia, the UK may be small but we are mighty. We have the potential to grow quantity as well as quality, especially in the Three Counties.
For further advice on variety selection and marketing opportunities, please speak to your local farm trader.