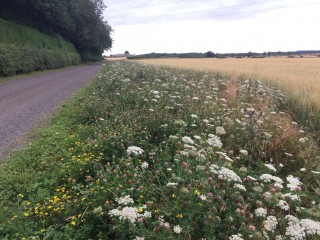 Earlier this month I attended Natural England's RBAPS (known formerly as 'Payment by Results') conference which took place in Norfolk, not far from the Kings' office at Diss.
With Brexit looming, the conference was especially topical. The Rt Hon the Lord Blencathra, deputy chair of Natural England, addressed all delegates in the morning and explained how RBAPS is likely to be an integral part of any future agri-environment schemes.
Unlike existing schemes, RBAPS is thought to be the first incentivised initiative that gives farmers the flexibility to dictate which environmental projects they take on. Even more importantly, payments are awarded based on the results achieved which means that the more environmental benefits a farmer provides, the more money they can earn. Unlike other schemes where a fixed rate payment is awarded for taking part, RBAPS allows greater flexibility and acknowledges the individual efforts of farmers to ensure they get out what they put in.
How did Payment by Results start?
The concept of 'payment by results' has been around for some time, with several European countries adopting a similar approach to their agri-environment schemes in the past. Clunie Keelyside, Senior Fellow at the Institute of European Environmental Policy, gave some interesting examples of how RBAPS had operated across Europe, including examples from Romania and Spain. The pilot was introduced to the UK in 2015.
For three years, RBAPS was funded by the EU but in an announcement from Michael Gove in August, it was confirmed that DEFRA would provide financial support for the next two years, reflecting the Government's commitment to the methodology.
With this support, Natural England is now looking at on-going trials with grassland and arable options within the scheme. Two of the arable options being specifically targeted are wild bird seed mixtures and nectar flower mixtures, with Natural England working in collaboration with the Yorkshire Dales National Park Authority and several growers in Norfolk.
Results so far
At the RBAPS conference, several of the pilot farmers shared their experience of the scheme so far and took part in a really insightful question and answer session. Although at very early stages of their agri-environment projects, each explained how they had already seen some really positive results. It was a fantastic opportunity to learn more about the opportunities available and their ideas going forward.
One of the key topics discussed was the provision of advice for those taking part. While financial incentives are higher and so an obvious attraction, all of the farmers stressed the importance of receiving continuous training and advisor support. This was further emphasised by Marek Nowakowski of the Wildlife Farming Company who said it was clear that the scheme's success relied heavily on the ability of farmers to access help. Ongoing education and guidance from experts helps to build farmers' confidence as they take on various new environmental projects, where achieving the optimum result is very much down to them as opposed to following rigid guidelines. It is apparent that going forward, such advice will be increasingly delivered by companies in the private sector, with the likes of Kings being extremely well placed to be a key force in agri-environment delivery and scheme advice.
RBAPS and Brexit
The undoubted use of RBAPS post-Brexit was also compounded by several talks, including a view from Roger Draycott, Head of Advisory and Eastern and Northern England Advisor at the Game and Wildlife Conservation Trust. Roger spoke about the benefits of using RBAPS in cluster farms and, with a final talk from Tracie Evans, Head of Natural Science at DEFRA, delegates were in little doubt about how the initiative will likely become a method for measuring the New Environmental Land Management Schemes (NELMS).
Kings and RBAPS
As highlighted by the farmers taking part, Natural England's collaboration with seed experts is paramount to the scheme's success, and it is encouraging to see that they are listening to and implementing recommendations from advisors such as ourselves in order to give growers the best opportunity to succeed.
At Kings, we are really passionate about offering the necessary help and guidance to growers taking part in RBAPS. A week before the Natural England conference, we hosted a RBAPS workshop with several growers and heard from two participating farmers, George Eaton and Andrew Pitts, with whom we work very closely. George and Andrew echoed the sentiments of the pilot farmers who spoke at the conference and together we explained how our collaborative way of working has helped them carry out some fantastic agri-environment work, from which they are already seeing benefits.
If you'd like to know more about the scheme and how Kings could support you, please get in touch.