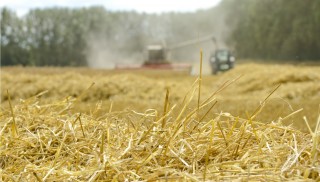 This blog was first featured as an article in the September issue of Three Counties Farmer

With the frailties of an uncertain future post-Brexit combined with severe weather conditions across the UK, farmers are being brought even closer together to combat the difficulties we now face.
The NFU called for arable farmers to bale all of their straw throughout the summer, as livestock farmers tackle a major shortage of feed and fodder following the harsh heat since June. In response, growers have baled the best part of all the cereal straw cut in the UK and are also looking to offer it further afield to those in desperate need. In some parts of the UK, even oilseed rape straw has been baled but this has been seen less so in the local counties compared to further north.
The consistent high temperatures and distinct lack of rain impacted straw prices and caused them to climb significantly. It has largely been a year of short straw but local markets reported considerable variation across local areas, reflecting the impact of different drilling dates and the resulting straw quality.
Wheat and barley straw have traded at very similar prices, with figures floating around £135/acre at one point. However, while the effects of the heatwave continue to cause farmers undue stress at this busy time of year, there may be a few more numbers on top of this value by the time this lands on your kitchen table.
The price increase will have no doubt been a driver for arable farmers to sell more than chop but, as a consequence, the impacts of nutrient loss from baling must be considered as crops for harvest 2019 are established.
PKpluS is a new line of PK granulated fertilisers based on polysulphate, which releases the same amount of sulphate as more common products but over a longer period of time. The product allows phosphorus and potassium to be applied at the same time, alongside sulphur, magnesium and calcium. The importance of these nutrients cannot be stressed enough but even more so when the nutrients in straw have been removed from the field.
As livestock farmers battle through the winter months with a limited supply of straw, it would be wrong to ignore that, not only does hybrid barley outperform conventional varieties in terms of yield (0.65t/ha in Frontier trials), but it also produces large volumes of straw. This could be vital for livestock farmers and yet another show of how resilient our industry is in times of uncertainty and need.
For more information on fertiliser options and hybrid varieties, please contact your local Frontier agronomist or farm trader.