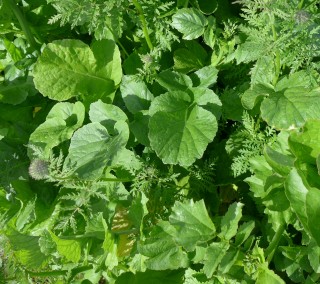 Catch crops, sown in the summer, can be used very effectively as part of an Ecological Focus Area (EFA) greening requirement. These crops offer potential benefits to soil and rotation management beyond the financial rewards of EFA. However, it's important to comply with EFA criteria around management dates.

Catch crops that were established by the EFA deadline of 20th August, and that have received some rainfall, are likely to have established well. We are fast approaching a key time period requiring management decisions – to destruct the crop or leave in place over the winter?
Under EFA guidelines, catch crops must remain intact until at least 14th October, meaning the first opportunity to return to the field is 15th October. (NB this is different and offers greater flexibility than the rules around cover crops, which don't allow a return to field operations until 15th January.)
As we approach the deadline, now is a good time to review options in terms of rotation, following crop and the best approach to catch crop destruction. Conversely, and like many growers, you may even decide to let the catch crop grow for longer to help encourage the development of good root structure, soil improvement and nutrient capture.
Leaving the catch crop in the ground?
If having to manage forced changes to your planned rotation, due to poor oilseed rape establishment for example, then leaving your catch crop in the ground and following with a spring crop may be a viable alternative. With soil and weather conditions still conducive to growth, the catch crop will continue to put on biomass, both above and below ground. This helps to protect the surface from runoff, restructure the soil at depth (depending on the species planted), capture available nutrients and increase soil fertility and organic matter.
Alternatively, with grass weeds prevalent on many farms, the catch crop option is favoured by many growers because of the effective window it provides for late drilling. This is especially beneficial when used as part of a black-grass control strategy. Moreover, with significantly below-average rainfall this year, waiting for soil moisture deficits to decline will result in better efficacy from residual herbicides.
When it comes to destroying the catch-crop, it is important to consider the seed mix sown back in August. The mix had to be at least one cereal (rye, barley or oats) and at least one small seed (vetch, phacelia, mustard, lucerne, or oil radish).However, there are growers that may have used a very specific mix of seed species, but still based around required EFA elements.For example, more growers are using catch crops as part of an integrated pest management programme to control soil borne pests and diseases, so a mix comprising Defender oil radish and Pratex black oat provides a legal EFA catch and cover crop seed mix while also acting as another very effective management tool.
Forward planning is critical to obtain the maximum result and avoid creating an unmanageable bottleneck of operational work later in the season. To help, we've outlined the below advice for the destruction of various mixes:
A simple cereal and vetch mix could easily be destroyed with a standard rate glyphosate approach before the direct drilling of a winter cereal.
Mixes created for nutrient capture and improving soil structure
Mixes of this type, for example those containing radish, tillage radish, oat, rye and Phacelia, may require a glyphosate/2,4-D type combination. This would help to completely kill the deeper rooting radish varieties with a powerful tap root.
Depending on the time you treat, ensure you check following crop intervals as some more sensitive crops (sugar beet and pulses) have longer restrictions.
Biofumigation and nematode reducing mixtures
For these mixtures (including radish and black oat), do not apply a total herbicide. Instead, the crop should be left to grow until the end of October before macerating and incorporating into the soil.
With careful planning and consideration, the use of the EFA catch crop option can present a valuable way of improving rotations; providing more effective management options at the same time as achieving the greening requirement.
Key dates for catch and cover crops:
20th August – the date by which all catch crops were sown under EFA
14th October – The date until which catch crops must remain in the ground under EFA
15th January - The date until which cover crops must remain in the ground under EFA

For more information on any of the above, speak to your Kings or Frontier contact, or get in touch here.




Paul Fogg,​Crop production technical lead
​Clive Wood​, Northern technical advisor and Kings business development manager