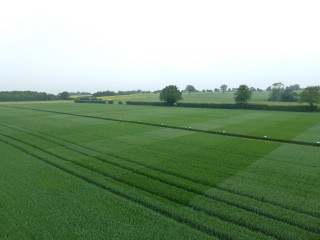 All of our 3DThinking sites established well last autumn. As we move further into winter we take a look at some of the headline trials and their performance to date. While the cropping range varies across sites, all are conducting winter wheat trials focused on variety, nutrition, seed treatment and crop protection.
| | | | |
| --- | --- | --- | --- |
| 1 | Muir of Ord | 12 | Ruddington |
| 2 | Oldmeldrum | 13 | Honingham |
| 3​ | Coldstream | 14 | Wansford |
| 4 | Morpeth | 15 | Walsham le Willows |
| 5​ | Stokesley | 16 | Ledbury |
| 6 | Haywold | 17 | Birch |
| 7 | Aldbrough | 18 | Wingham |
| 8 | Ormskirk | 19 | Malshanger |
| 9 | Wickenby | 20 | Blandford Forum |
| 10 | Staunton in the Vale | 21 | Newport |
| 11 | Ashbourne | | |
At our Wansford, Wickenby and Haywold sites there is a focus on winter oilseed rape. At Haywold in particular, experimental trials have been underway to measure the effectiveness of both foliar insecticide sprays and insecticide seed treatments against flea beetle damage.
Haywold is also focused on oilseed rape and broadleaved weed control. Weeds have been drilled into plots and comparisons made between areas left untreated and those where Clesima herbicide has been applied.
A wide range of winter barley trials are in place at our Wickenby and Haywold sites, alongside a fungicide trial at Honingham. This includes seed treatments, nutrition and variety trials.
At both Wickenby and Wansford we are looking at rye and work continues in Oldmeldrum, near Aberdeen to monitor nitrogen and variety interaction in spring barley. Spring barley is a major crop in Scotland and Frontier continues to build the knowledge base around new varieties.
Spring cereal trials are all taking place at Wickenby, Wansford, Haywold and Malshanger. Off-centre trials are focusing on new oilseed rape herbicide options and cover crop trials are now spread around the country.
Locating spore traps
Spore traps have been set up at all main sites (including some of the demo locations). These feed into a CHAP network of up to 30 monitoring sites, contributing to national and regional coverage of the main wheat, barley and oilseed rape growing areas in England. The network as a whole comprises sites that can provide detailed examinations and reports of disease epidemic progress and pest population development.
Winter wheat seed rates, seed treatments and drill dates
At our Ledbury site, seed rate work showed variations in plant population during the autumn. At Wickenby, late-drilled wheat using seed infected with Bunt and Fusarium were emerging in the autumn. For this trial, a range of existing and experimental seed treatments are being compared. Crop emergence will be assessed and in the summer the number of plants infected with bunt will be counted.
Winter oat drilling dates
At Wickenby, at the request of an oat consumer, different seed rates of winter oats have been drilled at monthly intervals to determine the effects on quality and yield.
Barley Yellow Dwarf Virus
Two trials have been set up in winter barley to compare seed treatments and foliar insecticides for the control of Barley Yellow Dwarf Virus (BYDV). Alongside this, two varieties with tolerance to BYDV have also been included. Aphids have been released onto the plots to help with virus progression.
Disease in winter wheat
Revelation at Hampshire and Haywold, and Cordiale at Wansford are all showing symptoms of mildew disease. The trial in Hampshire is also part of our black-grass trial matrix.
Glyphosate timing
The second year of a #3DThinking trial is underway to monitor timings and the amount of pre-drilling glyphosate applications related to the risk of developing resistance. This trial is being conducted in conjunction with ADAS, product manufacturers and other distributors.
New this season
An establishment trial in Northumberland to look at cultivation depth.
Horsch-drilled winter wheat variety/drill date comparison at Wickenby
A rotations trial at Wickenby focused on autumn and spring cropping with and without cover or catch crops.


Christine Lilly
Research and technical support manager

For specific advice for your business related to this blog or any other aspect of crop production get in touch with Frontier.