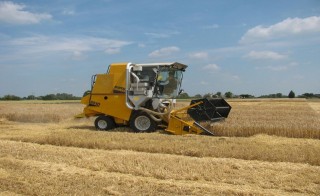 As you may already know, over the last couple of months we've been speaking to growers up and down the country as part of our series of #3DThinking seminars. We've seen a great turnout and the seminars give us a really good opportunity to talk about our trials progress and the discoveries made so far.
In particular, I've been sharing our findings related to spring barley; looking at the performance of different varieties, effects of different drilling dates and the impact from PGR and different seed rate trials.
Below are some of the results we've shared so far:
Brackling
Brackling – or the breaking of stems – was evident in the 16/17 spring barley. Across all untreated varieties, the levels recorded varied considerably. For example, Propino showed little to no brackling at all, whereas Concerto and LG Diablo showed less resistance. However, once PGR and fungicides were applied the performance of each variety became far more balanced. Instances of brackling were significantly reduced to little-to-none across all varieties, showing that fungicides are important for more than just disease control.
Wide​ drilling window
​The trials have also shown there is a wide drilling window for spring barley. In instances where early drilling was carried out, this didn't necessarily lead to higher yields and could in fact cause additional problems such as predisposing the crop to more disease. Early drilling in cold seed beds can also slow down crop emergence, putting the crop at greater risk of damage from rooks and crows.
In comparison, later drill dates proved to have several advantages. For starters, because different drill dates didn't seem to affect yield, it became apparent that this could offer growers some confidence when battling the ever-present challenge that is black-grass. You don't need to worry so much about holding off drilling in order to get better control of the grass-weed.
In addition, our trials showed that on average, delayed drilling caused grain-nitrogen to increase from 1.60 to 1.74 and it allowed for that extra bit of time to wait for the right soil conditions too.
Variety choice
One key learning to take away from the trials when considering variety choice was not just the projected yield, but also end market suitability. Equally, it is important to consider factors such as the % grain-nitrogen. Across the varieties, these ranged from 1.55 to 1.69%. Finally, bear in mind that your choice of variety is in fact an important tool for taking charge of disease control.
Seed rates
A number of our trials showed some really positive results when we explored the impact of increased seed rates. Lifting the seed rate levels from 200 to 500 on some varieties caused a notable increase in yield.
Prompt harvest and storage
Once spring barley is ready for harvest, you should make every effort to do so as soon as possible. If left sitting in the field, it can deteriorate quite noticeably. Equally, cooling and drying slowly will help maintain that all-important grain quality.




Christine Lilly
Research and Technical Support Manager

For specific advice for your business related to this blog or any other aspect of crop production get in touch with Frontier.