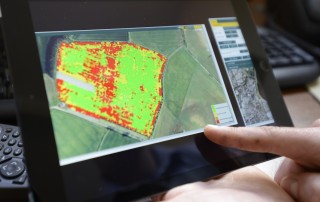 I was recently speaking to a SOYL customer on the phone as he logged back into MySOYL for the first time in a few months.
As I talked him through the steps, he hesitated when he got to the main dashboard after logging in. "What do all these other buttons do?" he queried.
​He was referring to some of the other applications available alongside MySOYL in MyFarm, which is Frontier's comprehensive farm management platform. After a significant upgrade, MyFarm and its applications now look considerably different and boast some impressive new features.
After giving my customer an overview of the wider platform and everything it could do, he was left feeling rather impressed.
You really can manage every part of your farm business

For many farmers MySOYL is a commonly used application, yet the wider benefits of MyFarm – which MYSOYL is part of – can be overlooked. After some detailed discussions about the range of benefits on offer and the added value they could bring to his farm business, my customer was left feeling quite overwhelmed. In fact, he went as far as to say, "I could literally run my farm business with these tools!"

​My colleague, Tom Parker recently posted a blog giving an overview of MyFarm as a whole, along with some useful information about what each of its applications do.
For those of you using MySOYL, it's worth saying that while it is a fantastic standalone application, using it alongside MyFarm's other applications can bring you and your business even greater benefits.

For example, let's say that you use MySOYL to help plan your variable rate applications and seed, as well as monitor in-field conditions through soil sampling and satellite imagery. While this data is invaluable, you could get even more from it by using it alongside the Greenlight Grower Management (GGM) application too.
Available in MyFarm through Muddy Boots, GGM is a cloud-based crop recording solution that you, your wider team and your agronomist can use. Providing you an interactive online space for effective communications, application recommendations can be noted and actions recorded – all of which is important data that can feed perfectly into your wider precision farming strategy.
Similarly, at the point that you're ready to sell the grain from your successful crop, MyFarm's MyCropMarketing application gives you uninterrupted market access and the ability to trade at the touch of a button.
Finally, and reassuringly, MyAccount is your go-to for anything related to your account; nicely tying everything together and giving you full view of everything related to your grain marketing and crop production activities.
So, the next time you're logging in to access MySOYL, why not take a moment to explore everything else MyFarm has to offer? You too could be managing every aspect of your business – all from one place.
​ A MyFarm account is free for any Frontier customer. You can learn more online or contact our This email address is being protected from spambots. You need JavaScript enabled to view it. to get started.
---
SOYL is hosting a series of 17 winter training events with parent company, Frontier Agriculture and specialist crop experts, Kings Crops. The events are open to all farmers interested in learning more about the use of digital technology to improve crop production performance and will include valuable insight into MyFarm and its role as a complete farm management platform. There will also be the opportunity to discover more about MySOYL, 'precision conservation' and digital agronomy.
You can find your local event and book your place by visiting our website.